寒风农场 is one of 2 Realms within Dead by Daylight

.
Overview
[
]
该领域由5张地图组成,以农场为主题。该领域的主色调是橙色。
Lore
[
]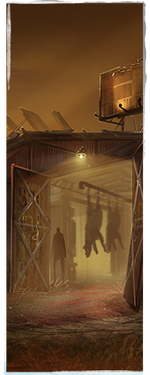 Coldwind Farm was widely known as it spanned two counties. Mr and Mrs Adams put a lot of work into the farm, but all those blisters and sweat paid off. But for some reason, one day in 1946, products stopped coming. And when crops started to wither and die, investigators decide to take a closer look. The farmhouse was abandoned. Dust covered the floor. Mould and dampness covered the rest. Faecal matter was found across the house. All but in one room. One room seemed to be have been spared from whatever the rest of the house suffered from. It came with no other explanation than that someone must live there. But no living soul was to be found. Instead remains were discovered in the basement. Both from Mr and Mrs Adams together with livestock.
Several years later, as people were trying to renovate and hope to sell the place, they discovered disturbing things inside the walls as they started to collapse. Things and creations put together by human hands. The whole farm were to be forgotten. But somehow people were drawn to it as things occurred. The Silo toppled over during a storm, revealing corpses inside. And one night the Harvester started, spewing blood across the trees. Now, Coldwind Farm is nothing more than that buzzing sound one can hear during summer nights.
Maps
[
]
| | | | | |
| --- | --- | --- | --- | --- |
| Fractured Cowshed | The Thompson House | Torment Creek | Rancid Abattoir | Rotten Fields |
Additions
[
]
Trivia
[
]
在游戏文件中,寒风农场幻境被称为农场。
It is likely that the name Adams is an early concept name for the Thompson Family as the latter's name is the only name that appears in everything related to the Coldwind Farm estate:

Mr and Mrs Adams are thus most likely Max Thompson senior and Evelyn Thompson.

Contradictory to this is the fact though, that the bodies of the former were found in the Silo on Torment Creek, whereas the bodies of the Thompsons were supposedly never found.

The Farmhouse, serving as the primary residence on the Coldwind Farm, is named The Thompson House.

祭祀树和收割机是所有寒风农场地图中的特色建筑。
在2.7.0补丁中,迷宫瓷砖的墙壁被木板封住,使它们更具脑力。