Jurassic World: Dominion Dominates Fandom Wikis - The Loop
打开音效
| | | |
| --- | --- | --- |
| | As I embarked on yet another day of struggle, I ended up in a new arena. A place that resembles nothing I've ever seen before. Houses with a structural design that's foreign to me. Contraptions and architecture that are reminiscent of my hometown, but in another form. A disturbing and puzzling form. I try to avoid it all together. | |
| | ~ Unknown (Potentially Benedict Baker) | |
哈登菲尔德 is one of 2 Realms within Dead by Daylight

.
It was implemented into the Game alongside the release of CHAPTER II: The HALLOWEEN® Chapter on 25 October 2016.
Overview
[
]
The Realm consists of 1 Map and is set in a suburb theme. Unlike previous Realms, it doesn't feature a primary colour palette.
The only Map available in this Realm is Lampkin Lane.
Lore
[
]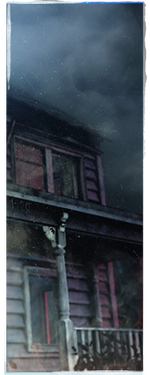 Haddonfield is a calm little town, without much going on. Or at least it was. If you were to ask anyone in the town, at the school or in a bar, if there's something off with Haddonfield, they'd decline. To accept that this was the birthplace of one of the purest form of evil is hard. People living here have always felt safe and protected. There were no boogeymen or other shady characters in the night. No lurking, no skulking. People slept perfectly fine for decades knowing this for a fact. So when Halloween came about, the town's folks were reluctant to accept that Haddonfield is now for ever known as an evil place. Gossip and made-up stories flooded the town.
Nobody really knows what happened, or if it's safe nowadays. Some moved away. Others visited as morbid tourists. During the day, a common visitor wouldn't suspect a thing. But as the sun sets and night comes, an eerie quietness devours the town. People are afraid. And as you visit Haddonfield, you too will get afraid. Not only because it sits upon a dark history, but also because something is off. This isn't a real place, but instead a warped version of a reality that is no more. An Entity version if you'd like.
Map
[
]
Trivia
[
]
In the game files, the 哈登菲尔德 Realm is being referred to under the name Suburbs.