Twisted Masquerade is an Event related to the Sixth Year Anniversary in Dead by Daylight

.
It marks the main event of the celebrations, starting on 16 June 2022 and ending on 30 June 2022.
In-game changes
[
]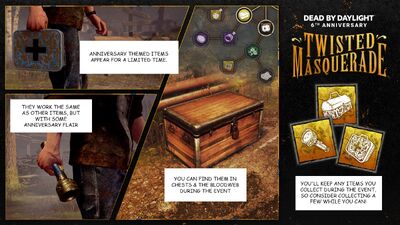 Masks
[
]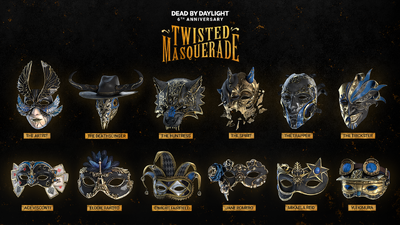 As the name of the Event implies, the Twisted Masquerade would add several unique Mask cosmetics for a select few Characters that could be unlocked during Trials when collecting an Invitation Scroll, reusing the Crown Pillar mechanic of previous Anniversaries.
Event Tome
[
]
The Twisted Masquerade features a special Event Tome: Tome 11.5 - Twisted Masquerade.
Like regular Tomes

, the Event Tome is made up of a mix of regular Survivor and Killer challenges, as well as some Master Challenges.
Additionally, however, some of nodes in the Auris Web will unlock a Cosmetic Piece as a reward for participating in the Event Tome.
The Event Tome features 2 Tome Levels, each with two separate paths through the Auris Web:
Community Path
[
]
This marks the upper path of the Auris Web.
It features challenges that will add their progression to a community-wide goal.
Personal Path
[
]
This marks the lower path of the Auris Web.
It functions like a regular path through the Auris Web like in any other Tome.
Log-In Rewards
[
]
Log-in Currencies
[
]
As a thank-you for celebrating playing Dead by Daylight, over the Twisted Masquerade, logging in will reward Players with a total of 300,000 Bloodpoints, 4,500 Iridescent Shards, 35 Rift Fragments, as well as a first-time log-in reward of 600,000 Bloodpoints:
Anniversary Challenges
[
]
Event Offering
[
]
Icon
Description
It may be a masquerade ball, but there is no masking the foul odour of this quivering yellow mass.
Consuming it, however, fills you with vigour.

Grants

106 %

bonus Bloodpoints in all Categories for all Players.

"Happy Anniversary!
We made you this cake/pie/pudding/unspeakable horror." — The Dead by Daylight Team
Community Challenge Rewards
[
]
Video
[
]
Trailer
[
]
Gallery
[
]