The Teacher is either an unused or joke Killer in Dead by Daylight

.
Overview
Around July 2016, three in-game files were added to the Game's icon folder:
The addition of those files fuelled speculations that they belonged to a new, upcoming Killer, likely Teacher-themed. This was further fuelled by an announcement by the Developers, that were working on the first ever Chapter DLC, supposed to be released about in August 2016.
Eventually, the new Killer turned out to be The Nurse
and The Teacher's files remained unused ever since.
Load-out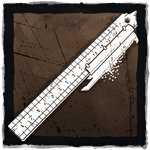 Judging from Detention

, The Teacher would likely have been armed with a Ruler that would have had a blade attached to it.
The potential effects of Detention

remain unknown.
Unique Perk
There is only one known Perk that would have belonged to The Teacher:
Icon
Name
Description

Underperform

THIS PERK IS UNUSED.

THIS PERK'S EFFECTS ARE UNKNOWN.