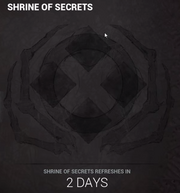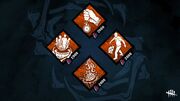 The Shrine of Secrets is a market in which Players may purchase Teachable Perks

or exchange Iridescent Shards
for Bloodpoints

.
It was implemented into Dead by Daylight

with Patch 1.2.0 (October 2016).
Overview
The Shrine of Secrets allows Players to unlock Teachable Perks without having to level the associated Character

 to either Level 30, 35 or 40, at which the Teachables would otherwise appear.
This includes the Teachable Perks of DLC Characters that would otherwise need to be purchased.
The Shrine of Secrets resets every Wednesday at 00:00:00 UTC (GMT+0).
Shrine Selection
The Shrine features a selection of 4 randomly chosen Teachable Perks that may be bought.
The selection is the same for all Players on all Platforms.
A general rule for the Shrine is that once a Perk has been featured, it will not be in the following 3 Shrines.
As with all rules, there are exceptions to this under special circumstances, the first of which happened in 2020, when Enduring

was featured in Week 44 and in Week 45.
Exceptions
During a Rift that features DLC Characters, the Shrine of Secrets overlapping with the opening of a Tome Level requiring DLC Perks to complete Master Challenges with will be guaranteed to contain either the necessary Teachable Perks or a random Teachable Perk of one of the four Characters whose Lore is expanded upon in the accompanying Tome.
This first occurred for Tome II - Reckoning, which contained the following Perks:
Buying Teachables
When a player buys a Teachable Perk from the Shrine, the Perk will from then on be unlocked in every Character's Bloodweb

.
This means that when buying a Unique Killer Perk, all the Killers will then be able to unlock that Perk in their respective Bloodwebs. This takes away the necessity for players to spend lots of Bloodpoints on a single Character, levelling them to Level 40 in order to obtain all their Teachable Perks the regular way. When a Perk has been bought in the Shrine, it will no longer show up in the original Character's Bloodweb when reaching the required level.
The Shrine renews itself every week with a new set of randomly chosen Teachable Perks. This makes it possible for a player to theoretically obtain a maximum of 4 Teachable Perks per week.
Cost
Teachable Perks generally cost 2,000 Iridescent Shards unless they are part of the 3 most recent Chapters, then they will cost 2,700 Iridescent Shards.
Buying a Teachable Perk that one has already unlocked on a Character will instead award 150,000 Bloodpoints for the former and 250,000 Bloodpoints for the latter.
Shrine Perk Count
For a list of the number of times every Teachable Perk has appeared on The Shrine of Secrets so far, please refer to the Shrines of Secrets Archive
Current Shrine of Secrets
Teachable Perks
Cost
Perk Owners

Left Behind

1500

William "Bill" Overbeck

We're Gonna Live Forever

1500

David King

Franklin's Demise

1500

Cannibal

Hex: Haunted Ground

1500

Spirit

refreshes in

6 hours
Past Shrines of Secrets
For a list of all of the past Shrines of Secrets, please refer to the Shrines of Secrets Archive
History
Prior to Patch 2.0.0, Iridescent Shards
were earned at a maximum of 10 Shards per Trial (1 gained per minute), and Teachable Perks used to cost 550 Iridescent Shards or 750 Iridescent Shards. They were also capped at 1,000.
Trivia
For the first initial weeks of Patch 2.0.0, the Shrine of Secrets was deactivated until the Patch went live on the Console version of the game, that wasn't available until a few weeks later due to the certification process of Sony and Microsoft.

This was because the Shrine is synchronised across all Platforms and doesn't support two different pricing systems.
The Shrine was originally planned to go back up on 29 June 2018, but was delayed due to the certification process of the PS4 Patch having had problems and further delays.
The Shrine went back up on 6 July 2018.

Since the Shrine renewal of Weeks 14/15 in 2020 fell on April Fool's Day, the Developers had the game create a special April Fool's Shrine that was available for just 24 hours, containing only Calm Spirit , the Perk that hitherto had already appeared the most often on the Shrine.
The Shrine of Week 22 in 2022 was not random, but instead voted on by the Community as part of the preparatory-events for Dead by Daylight's Sixth Year Anniversary.
Gallery