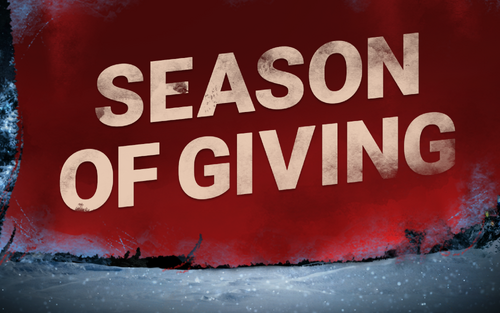 The gift of a hatch. The gift of an item offered in the final seconds of a trial.
Whether Killer or Survivor, there are plenty of ways to express your generous spirit!
It's only fitting that such generosity is rewarded, and this year, Dead by Daylight is celebrating the Holidays with daily giveaways for all our loyal players.
We have provided a calendar of what's to come – and there are plenty of Holiday treats to enjoy. Blood points. Iridescent Shards. Rift Fragments. All yours to spend freely, however you decide.
~ The Developers
The Season of Giving 2021 marked the return of the Advent Calendar Event from last year.
It kicked off the in-game celebrations of the days leading up to the Christmas holidays.
Overview
[
]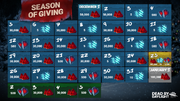 Note: the time cut-off for the 24-hour period between Log-in Rewards is 11 AM Eastern Time (15:00 UTC).
The Event's Daily Log-in Rewards were a mix of in-game Currency which added up to 1,000,000 Bloodpoints

, 4,500 Iridescent Shards
& 60 Rift Fragments
.
Week 1
[
]
| | | | |
| --- | --- | --- | --- |
| 1 December 2021 | 2 December 2021 | 3 December 2021 | 4 December 2021 |
Week 2
[
]
| | | | | | | |
| --- | --- | --- | --- | --- | --- | --- |
| 5 December 2021 | 6 December 2021 | 7 December 2021 | 8 December 2021 | 9 December 2021 | 10 December 2021 | 11 December 2021 |
Week 3
[
]
| | | | | | | |
| --- | --- | --- | --- | --- | --- | --- |
| 12 December 2021 | 13 December 2021 | 14 December 2021 | 15 December 2021 | 16 December 2021 | 17 December 2021 | 18 December 2021 |
Week 4
[
]
| | | | | | | |
| --- | --- | --- | --- | --- | --- | --- |
| 19 December 2021 | 20 December 2021 | 21 December 2021 | 22 December 2021 | 23 December 2021 | 24 December 2021 | 25 December 2021 |
Week 5
[
]
26 December 2021
27 December 2021
28 December 2021
29 December 2021
30 December 2021
31 December 2021
1 January 2022

100,000 BP
Week 6
[
]
| | | | |
| --- | --- | --- | --- |
| 2 January 2022 | 3 January 2022 | 4 January 2022 | 5 January 2022 |