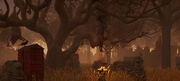 The Sacrificial Tree , also known as the "Slaughter Tree" and the "Meat Tree", and by many Players as the "Cow Tree", is a Landmark featured on all Coldwind Farm Maps. The sound heard under this landmark is the cattle groaning.
Overview
[
]
The Sacrificial Tree is a barren tree hung with slaughtered cows, presumed to have been hung up there by The Hillbilly

some time after he freed himself from his prison.
Contents
[
]
The Sacrificial Tree is surrounded by stone walls.
One stone wall contains a Window

.
There is a Pallet

between two other stone walls.
Trivia
[
]
The Sacrificial Tree is the only Landmark besides the Killer Shack on Rotten Fields.
As of Patch 1.6.0, the Sacrificial Tree emits a series of eerie ambient sounds for Players in close proximity.
Gallery
[
]