The Pools of Devotion are Props featured in Dead by Daylight

that were added with Patch 2.6.0 alongside The Plague

.
Overview
[
]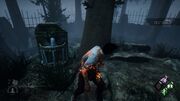 Pools of Devotion are the only way for Survivors
to cleanse themselves of the Sickness applied by The Plague's Vile Purge.
Each Map that features The Plague as the Killer spawns with a set number of Pools of Devotion.
They give off a distinct sound cue for The Plague, if a Survivor has cleansed themselves, and for the Survivor, if The Plague has interacted with a corrupted one to gain Corrupt Purge.
Mechanic
[
]
6 Pools of Devotion are located throughout the Trial Grounds and can be interacted with by infected Survivor to cleanse themselves.
Infected Survivors can see the Aura

of the Pools of Devotion, and The Plague sees those of corrupted Pools of Devotion.
The Plague can interact with corrupted Pools of Devotion in order to temporarily gain Corrupt Purge, which allows her to injure Survivors with her Power.
Survivors are unable to cleanse themselves at corrupted Pools of Devotion.
Add-ons
[
]
Olibanum Incense
Precious resin extracted from Boswellia trees, used during ceremonies for their sweet citrusy fragrance.

The Auras of Survivors cleansing at Pools of Devotion are revealed for

4 seconds

.

Prophylactic Amulet
A soapstone amulet crudely engraved with a winged deity that wards off sickness.
Fills the wearer with devotion.

Blessed Apple
A perfectly ripe fruit to break fast during the purification ceremony.
Delicious.

Start the Trial with

2 Pools of Devotion

already

corrupted

.

Ashen Apple
A peeled apple rolled into sanctified ashes.
Eating such a fruit warded off the malignantly envious spirits of the deceased.

Worship Tablet
A stone tablet adorned with gold, showing the drawings and writings of a corrupted incantation used originally to worship forgotten deities.

Increases Ingestion speed by

+100 %

.
Increases Movement speed while holding

Corrupt Purge

by

+4.4 %

.
Trivia
[
]
In the event of Survivors corrupting every last Pool of Devotion before The Plague interacts with one of them, all Pools of Devotion will reset and The Plague will automatically gain

Corrupt Purge

.
Like Alarm Clocks and Cages of Atonement , interacting with Pools of Devotion is not affected by any Unlockables.
Gallery
[
]