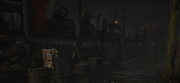 The Pier is a Structure featured throughout the Backwater Swamp Realm.
Nearby Props
[
]
The following Props may spawn around the Pier.
Layout
[
]
Characters can access the top of the Pier by walking up its wooden ramps, either the one at its back or the one on its Lower Floor.
At the top, there is a Generator, two Lockers, some barrels and lanterns:
There are various drop-offs on there.
The Totem and the Chest can spawn anywhere on it.
The Lower Floor, which resembles jungle gyms a lot, has various vaults and a pallet.
There is a vault in front of one of the drop-offs from the Upper Floor.
The Pallet can either spawn at the end of a wall segment in the middle of the Pier or at the right side of it.
Trivia
[
]
The Pier can potentially spawn with two Generators, being a considerable advantage to Killers when it comes to patrolling Generators.
Gallery
[
]