Monstrous Shrine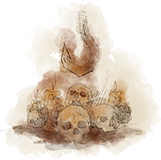 Monstrous Shrine is a general Killer

Perk
.
Perk descriptions may vary from in-game descriptions for reasons explained here.
Perks support

Mouse-over functionality

(desktop version only): hovering over the modifier words with your cursor will reveal the values behind them.
On mobile browsers, the values are displayed in small text after the modifier words. Desktop users experiencing issues with the mouse-over may temporarily switch to mobile view at the bottom of an Article page.
Icon
Tier I
Tier II
Tier III
Description

4,000

5,000

6,000

Your fervent care of the Hooks found in the Basement has aroused The Entity 's interest.

The Basement Hooks are granted the following bonuses:

3/6/9 % faster Entity progression.
5/10/15 % increased difficulty on escape attempts.
3/6/9 % increased penalty to escape fails.

"Then you will know that there is no escape. When hanging in the depths, you face the dark one."
Trivia
Each Hook Stage will take

58.25

/

56.60

/

55.05

seconds to complete.

Thus a full Sacrifice will take

116.50

/

113.21

/

110.09

seconds to complete.