Chris Redfield

Gender

Male

Nationality

American

Voice Actor

Gerard Vachon (The Monster Factory)
Chris Redfield is a Legendary Outfit available to Leon Scott Kennedy

from CHAPTER 20: Resident Evil™.
Like Leon Scott Kennedy, Chris Redfield originates from the video game franchise Resident Evil.
Overview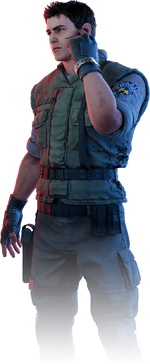 Previously a gifted pilot in the Air Force, Chris Redfield joined the S.T.A.R.S.'s Alpha Team as a point man and found new challenges to overcome.
Along with the rest of the Alpha Team, he was tasked to investigate the loss of contact with the Bravo Team deployed to Raccoon City.
His proficiency with a wide range of firearms distinguished him as a versatile and gifted sharpshooter.
Change Log
Change

: provided Chris with unique voice-lines.
Trivia
Chris Redfield, along with Claire Redfield, is the first

Legendary Outfit

to use its own voice lines, as well as Character Portrait, Lore, and in-game HUD icon.
Gallery
Chris Redfield Set
Icon
Name
Body
Rarity
Description
Collection
Binds
Price
Chris Redfield

Legendary

Previously a gifted pilot in the Air Force, Chris Redfield joined the S.T.A.R.S.'s Alpha Team as a point man and found new challenges to overcome.
Resident Evil
Head

Torso

Legs

1485

Icon
Name
Body
Rarity
Description
Collection
Cropped Hair

Legendary

Along with the rest of the Alpha Team, he was tasked to investigate the loss of contact with the Bravo Team deployed to Raccoon City.
Resident Evil
S.T.A.R.S. Uniform

Legendary

His proficiency with a wide range of firearms distinguished him as a versatile and gifted sharpshooter.
Resident Evil
Wide Ballistic Pants

Legendary

An armored pair of cargo pants that are both flexible and durable.
Resident Evil