Claire Redfield

Gender

Female

Nationality

American

Voice Actor

Danielle Evans
Claire Redfield is a Legendary Outfit available to Jill Valentine
from CHAPTER XX: Resident Evil.
Like Jill Valentine, Claire Redfield originates from the video game franchise Resident Evil.
Overview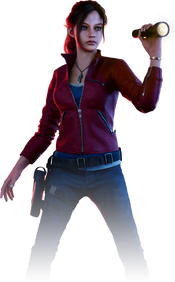 After weeks of not hearing from her big brother, she left college to seek him out.
Stopping for gas on the outskirts of Raccoon City, she stumbled upon a devastating biohazard.
Caught unexpectedly in this biohazard, she used the skills her brother taught her to survive.
Trivia
Claire Redfield, along with Chris Redfield, is the first

Legendary Outfit

to use its own voice lines, as well as Character Portrait, Lore, and in-game HUD icon.
Gallery
Claire Redfield Set
Icon
Name
Body
Rarity
Description
Collection
Binds
Price
Claire Redfield

Legendary

After weeks of not hearing from her big brother, she left college to seek him out.
Resident Evil
Head

Torso

Legs

1485

Icon
Name
Body
Rarity
Description
Collection
Amber Ponytail

Legendary

Stopping for gas on the outskirts of Raccoon City, she stumbled upon a devastating biohazard.
Resident Evil
Leather Jacket "Made in Heaven"

Legendary

A tough, waterproof leather jacket for any weather.
Resident Evil
Skinny Denims

Legendary

Caught unexpectedly in this biohazard, she used the skills her brother taught her to survive.
Resident Evil