In-Game Store
This Article features the In-Game Store contents featured in Dead by Daylight

.
As of (Patch 2.0.0), the In-Game Store was added into the game, absorbing the Shrine of Secrets

and completely reworking the Iridescent Shards
system:
Shards were now obtained by levelling up your Player Level
The maximum cap for Shards was removed
This enabled players to now purchase new cosmetics, survivors, and killers, which were previously only available through the Steam Store and your Console's Store. With new cosmetics being introduced through the In-Game Store, this also introduced the limitation of DLC characters to just 1 cosmetic, rather than a full additional outfit as before.
As of Patch 2.0.0 survivors/killers will only receive additional cosmetics outside of the defaults by purchasing through your platforms Store. Purchasing characters with Auric Cells

or Iridescent Shards
will give players only the default cosmetics.
There are currently 4 sections featured in the In-Game Store:
Featured
Characters
Auric Cell Packs
Shrine of Secrets
The In-Game Store offers players the ability to purchase characters, teachable perks and outfits using the In-game currencies; Auric Cells

and Iridescent Shards
. This offers an alternative to purchasing through the specific platform's Store page.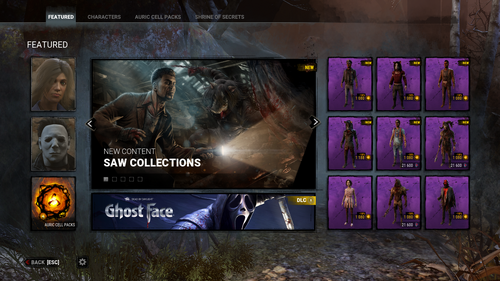 The Featured Menu is the In-Game Store's main and default menu screen. It offers basic navigation to the other menus in the In-Game Store, while showcasing the newest additions.
Starting with the far left, the menu screen will feature and showcase:
A Killer and Survivor from an unpurchased DLC pack (Halloween Pack if all are purchased of that category) and an additional link to the Auric Cell Packs.
The Banner of the four newest featured content added to the store (on rotation) and a banner of the newest DLC that can be purchased through the Steam Store or your Console's Store.
Nine of the newest outfits added to the store
Main article: Characters
The Characters Menu is the section to individually select which character's cosmetics you would like to see. There are two sections: Survivors and Killers. Each character has 3 categories to choose a cosmetic for. For majority of Survivors, it's: Head, Torso, Legs; for majority of Killers, it's: Mask/Upper Body, Entire Body/Lower Body, Weapon. A 4th category is for outfits, which offers 3 cosmetics bundled with a 10% off for Auric cells for purchasing them together.
Though all characters are present, majority of Licensed DLC characters do not have cosmetics available in the store.
Dwight Fairfield
Expand to view content
Icon
Name
Rarity
Description
Contents
Collection
Price
Dead-End Job

Common

The classic, nondescript work attire for a natural born leader.
Basic Fitted Cap (Salmon)

Thoughtful Thursday Shirt (Gray)

Day One Office Slacks (Salmon)

Dwight Essentials

135

2700

Dead-End Job

Common

The classic, nondescript work attire for a natural born leader.
Basic Fitted Cap (Moss Green)

Thoughtful Thursday Shirt (Blue-Gray)

Day One Office Slacks (Moss Green)

Dwight Essentials

135

2700

Dead-End Job

Common

The classic, nondescript work attire for a natural born leader.
Basic Fitted Cap (Gray)

Thoughtful Thursday Shirt (Brown)

Day One Office Slacks (Dark Gray)

Dwight Essentials

135

2700

Dead-End Job

Common

The classic, nondescript work attire for a natural born leader.
Basic Fitted Cap (Light Gray)

Thoughtful Thursday Shirt (Moss Green)

Day One Office Slacks (Light Gray)

Dwight Essentials

135

2700

Dead-End Job

Common

The classic, nondescript work attire for a natural born leader.
Basic Fitted Cap (Turquoise)

Thoughtful Thursday Shirt (Red)

Day One Office Slacks (Blue)

Dwight Essentials

135

2700

Smells Like Pizza

Uncommon

Strap in for exciting night of video games and corn chips! This comfortable and casual outfit will let you live the dream... for one night only!

Pizza dude's got thirty seconds!

Pizza Hat

Pizza Hoodie

Smells Like Camo

Weekend Loungin'

270

5400

Hot Musk

Uncommon

Strap in for exciting night of video games and corn chips! This comfortable and casual outfit will let you live the dream... for one night only!
Musky Beanie

Musky Hoodie

Musky Trackies

Weekend Loungin'

270

5400

Where's Dwighty?

Uncommon

Strap in for exciting night of video games and corn chips! This comfortable and casual outfit will let you live the dream... for one night only!

Where could he be?

Dwighty Beanie

Dwighty Hoodie

Dwighty Trackies

Weekend Loungin'

135

White Wine

Rare

Only the best will do for a night of stylish wining and dining. It's date night ladies!
Light-Headed Librarian

Wine Tasting Vest

Grape-Crushers

Wine N Dine

675

13500

Black Coffee

Rare

Only the best will do for a night of stylish wining and dining. It's date night ladies!
Coffee Bean Sunnies

Espresso Vest

Matcha Cappuccinos

Wine N Dine

675

13500

Pink Martini

Rare

Only the best will do for a night of stylish wining and dining. It's date night ladies!

Shaken, not stirred.

Hangover Sunnies

Cocktail Soiree Vest

Cherries on Top

Wine N Dine

810

16200

Freestyle with Argyle

Rare

Campus life has never been so fun! Be the life of the party at every sorority event! Greek letters, represent!
Freestyle Aviators

Versatile Argyle

Freestyle Shorts

College Daze

675

13500

Campus Life

Rare

Campus life has never been so fun! Be the life of the party at every sorority event! Greek letters, represent!
Campus Sunnies

Campus Stripes

Campus Shorts

College Daze

675

13500

Prepped and Ready

Rare

Campus life has never been so fun! Be the life of the party at every sorority event! Greek letters, represent!
Prepped for a Shave

Prepped for Success

Prepped Beach Shorts

College Daze

810

Mr. Elf

Very Rare

Dwight was annoyed by his limited finances for the holidays, a time of credit card excess and overtime. Lonely and desperate to buy himself a present, he secured a part-time job at the mall.
Elven Ears

Starry Sweater

Tight Tights

Winter Tales

1080

21600

Chute Malfunction

Very Rare

This was supposed to be a fun experience. Now, with a failed chute, Dwight's stuck in the woods. What's that noise?
Vented Goggles

Failure to Deploy

Distressed Denim

Team Building Day

1080

21600

The Great Gas Jockey

Very Rare

For 3 magnificent months, Phil's Petrol had this MVP on their team providing the premium experience!
Gas Topper

Phil's Petrol Uniform

Petrol Pants

Route 66

1080

Pizza Delivery Boy

Very Rare

It's Friday night and Dwight's orders are piling up: get the pizza delivered on time or get fired.
Cycling Cap & Helmet

Synthetic Jacket

Spandex Tights

Quick Bites

1080

Snake Oil Merchant

Very Rare

Gather round, gather round! Come and see everything that has been missing from your life!

Do you suffer rheumatism? Lumbago? Acute, chronic, sciatic, neurologic, or inflammatory pain?

Slick Dealer Fedora

Swindler Travel Jacket

Slippery Charlatan Trousers

Fog Travelers

1080

Dwight-in-a-Box

Very Rare

Dwight failed to snag the starring role in his school's holiday play, instead being billed to play Holiday Present #2.
North Star

Gift-Wrapped

Mousy Slippers

Holiday Horror

1080

21600

Vigo's Apprentice

Event

The clothes of a chemical factory worker who kept hazardous substances under lock and key.
Blued Steel Spectacles

Blue-Gray Waistcoat

Dusty Nut Brown Trousers

Hallowed Blight

1080
Expand to view content
Icon
Name
Rarity
Description
Outfit
Collection
Price
Basic Fitted Cap (Salmon)

Common

A basic, somewhat generic hat. Colorful, but plain. Keeps the sun off the head, but not very effective against The Fog.
Dead-End Job
Dwight Essentials

50

900

Basic Fitted Cap (Moss Green)

Common

A basic, somewhat generic hat. Colorful, but plain. Keeps the sun off the head, but not very effective against The Fog.
Dead-End Job
Dwight Essentials

50

900

Basic Fitted Cap (Gray)

Common

A basic, somewhat generic hat. Colorful, but plain. Keeps the sun off the head, but not very effective against The Fog.
Dead-End Job
Dwight Essentials

50

900

Basic Fitted Cap (Light Gray)

Common

A basic, somewhat generic hat. Colorful, but plain. Keeps the sun off the head, but not very effective against The Fog.
Dead-End Job
Dwight Essentials

50

900

Basic Fitted Cap (Turquoise)

Common

A basic, somewhat generic hat. Colorful, but plain. Keeps the sun off the head, but not very effective against The Fog.
Dead-End Job
Dwight Essentials

50

900

Pizza Hat

Uncommon

Whether preparing for a lazy day in front of the TV, or traveling to the nearest fast food outlet, the casual beanie is the obvious choice! Goodbye bed-hair; hello warm head!

Standard issue beanie, exclusively for PizzaWhat! employees.

Smells Like Pizza
Weekend Loungin'

100

1800

Muksy Beanie

Uncommon

Whether preparing for a lazy day in front of the TV, or traveling to the nearest fast food outlet, the casual beanie is the obvious choice! Goodbye bed-hair; hello warm head!
Hot Musk
Weekend Loungin'

100

1800

Dwighty Beanie

Uncommon

Whether preparing for a lazy day in front of the TV, or traveling to the nearest fast food outlet, the casual beanie is the obvious choice! Goodbye bed-hair; hello warm head!
Where's Dwighty?
Weekend Loungin'

100

Light Headed Librarian

Rare

A fresh new haircut and stylish new glasses! What could be better?

Contrary to popular belief, these glasses do not contain prescription lenses. They are purely about looking professional and chic. Hot diggity damn!

White Wine
Wine N Dine

250

4500

Coffee Bean Sunnies

Rare

A fresh new haircut and stylish new glasses! What could be better?
Black Coffee
Wine N Dine

250

4500

Hangover Sunnies

Rare

A fresh new haircut and stylish new glasses! What could be better?
Coffee Bean
Wine N Dine

300

5400

Freestyle Aviators

Rare

No need to be a Nervous Nelly when you have dark sunglasses to hide your tears! Never fear, our courageous leader is here!
Freestyle with Argyle
College Daze

250

4500

Campus Sunnies

Rare

No need to be a Nervous Nelly when you have dark sunglasses to hide your tears! Never fear, our courageous leader is here!
Campus Life
College Daze

250

4500

Prepped for a Shave

Rare

No need to be a Nervous Nelly when you have dark sunglasses to hide your tears! Never fear, our courageous leader is here!

This five o' clock shadow took a solid month to grow!

Prepped and Ready
College Daze

300

Elven Ears

Very Rare

Dwight hated every single minute of his new job and the irritating fake ears only amplified his frustration.
Mr. Elf
Winter Tales

400

7200

Vented Goggles

Very Rare

For a clear view of the ground, as it rushes upward. Paired with wind-blown hair, which is never going to be manageable again.
Chute Malfunction
Team Building Day

400

7200

Gas Topper

Very Rare

What Dwight once wore to his 9 to 5 is now a fashion statement with hipsters everywhere.
The Great Gas Jockey
Route 66

400

Cycling Cap & Helmet

Very Rare

Helmet with a cycling cap underneath to keep his skull safe and his head warm.
Pizza Delivery Boy
Quick Bites

400

Slick Dealer Fedora

Very Rare

Nothing says 'genuine article' like a fake leather hat and imitation sunglasses.

Whatdya say?

Snake Oil Merchant
Fog Travelers

400

North Star

Very Rare

A jolly Dwight, topped with a star.
Dwight-in-a-Box
Holiday Horror

400

7200

Blue Steel Spectacles

Event

C-shaped bridge spectacles with a steel frame colored by heat treatment.
Vigo's Apprentice
Hallowed Blight

400
Expand to view content
Icon
Name
Rarity
Description
Outfit
Collection
Price
Thoughtful Thursday Shirt (Gray)

Common

An everyday shirt for an everyday guy.
Dead-End Job
Dwight Essentials

50

900

Thoughtful Thursday Shirt (Blue-Gray)

Common

An everyday shirt for an everyday guy.
Dead-End Job
Dwight Essentials

50

900

Thoughtful Thursday Shirt (Brown)

Common

An everyday shirt for an everyday guy.
Dead-End Job
Dwight Essentials

50

900

Thoughtful Thursday Shirt (Moss Green)

Common

An everyday shirt for an everyday guy.
Dead-End Job
Dwight Essentials

50

900

Thoughtful Thursday Shirt (Red)

Common

An everyday shirt for an everyday guy.
Dead-End Job
Dwight Essentials

50

900

Pizza Hoodie

Uncommon

Sometimes you need a break from life. If you can't get it from the weekend and a comfortable hoodie, where else can you find it?

Standard issue hoodie, exclusively for Pizzawhat! employees.

Smells Like Pizza
Weekend Loungin'

100

1800

Muksy Hoodie

Uncommon

Sometimes you need a break from life. If you can't get it from the weekend and a comfortable hoodie, where else can you find it?
Hot Musk
Weekend Loungin'

100

1800

Dwighty Hoodie

Uncommon

Sometimes you need a break from life. If you can't get it from the weekend and a comfortable hoodie, where else can you find it?
Where's Dwighty?
Weekend Loungin'

100

Whine Tasting Vest

Rare

It's party time, right? With this vest, it is definitely time to party! Eat some canapés and pretend you know what is going on! Impress friends and co-workers alike!
White Wine
Wine N Dine

250

4500

Espresso Vest

Rare

It's party time, right? With this vest, it is definitely time to party! Eat some canapés and pretend you know what is going on! Impress friends and co-workers alike!
Black Coffee
Wine N Dine

250

4500

Cocktail Soiree Vest

Rare

It's party time, right? With this vest, it is definitely time to party! Eat some canapés and pretend you know what is going on! Impress friends and co-workers alike!
Coffee Bean
Wine N Dine

300

5400

Snack Time

Rare

Is there anything better than slumping in front of the TV and stuffing your face with snacks?
No Outfit
Ugly Sweaters

250

4500

Versatile Argyle

Rare

Sometimes college life is hard. This combination makes it easy. Put on a button-up, drop an awesome sweater on top! Thanks mom. You're the best!
Freestyle with Argyle
College Daze

250

4500

Campus Sunnies

Rare

Sometimes college life is hard. This combination makes it easy. Put on a button-up, drop an awesome sweater on top! Thanks mom. You're the best!
Campus Life
College Daze

250

4500

Prepped for a Shave

Rare

Sometimes college life is hard. This combination makes it easy. Put on a button-up, drop an awesome sweater on top! Thanks mom. You're the best!
Prepped and Ready
College Daze

300

Starry Sweater

Very Rare

To him, the only good thing about this sparkling sweater was that it was highly flammable. He wished he could burn it with those ridiculous fake ears!
Mr. Elf
Winter Tales

400

7200

Failure to Deploy

Very Rare

Who packed this chute? No-one else's failed, so it's starting to look like it was done on purpose.
Chute Malfunction
Team Building Day

400

7200

Phil's Petrol Uniform

Very Rare

This lucky grease-soaked uniform accompanied Dwight on countless gas-filled adventures. Now it can accompany him on his fleeing-for-his-life adventures.
The Great Gas Jockey
Route 66

400

Synthetic Jacket

Very Rare

Speed through rain and mud with a windbreaker that keeps the clothes dry and body warm.
Pizza Delivery Boy
Quick Bites

400

Swindler Travel Jacket

Very Rare

This jacket is equipped with plenty of hidden pockets. Some of these pockets are filled with amazing things.

What a lovely pocket-watch you have there!

Snake Oil Merchant
Fog Travelers

400

Gift-Wrapped

Very Rare

Give the gift of Dwight this holiday season.
Dwight-in-a-Box
Holiday Horror

400

7200

Blue-Gray Waistcoat

Event

A phosphorous-lined work suit with a single breast waistcoat that hides an old pocket watch.
Vigo's Apprentice
Hallowed Blight

400
Expand to view content
Icon
Name
Rarity
Description
Outfit
Collection
Price
Day One Office Slacks (Salmon)

Common

Just another pair of slacks.
Dead-End Job
Dwight Essentials

50

900

Day One Office Slacks (Moss Green)

Common

Just another pair of slacks.
Dead-End Job
Dwight Essentials

50

900

Day One Office Slacks (Dark Gray)

Common

Just another pair of slacks.
Dead-End Job
Dwight Essentials

50

900

Day One Office Slacks (Light Gray)

Common

Just another pair of slacks.
Dead-End Job
Dwight Essentials

50

900

Day One Office Slacks (Blue)

Common

Just another pair of slacks.
Dead-End Job
Dwight Essentials

50

900

Smells Like Camo

Uncommon

Top of the line in terms of comfort. Loose fit tracksuit pants with lots of breathing room. Perfect for a stroll down to the corner store for supplies. Works just as well when creeping around the fog.

The perfect camouflage.

Smells Like Pizza
Weekend Loungin'

100

1800

Muksy Trackies

Uncommon

Top of the line in terms of comfort. Loose fit tracksuit pants with lots of breathing room. Perfect for a stroll down to the corner store for supplies. Works just as well when creeping around the fog.
Hot Musk
Weekend Loungin'

100

1800

Dwighty Trackies

Uncommon

Top of the line in terms of comfort. Loose fit tracksuit pants with lots of breathing room. Perfect for a stroll down to the corner store for supplies. Works just as well when creeping around the fog.

The perfect camouflage for hiding in lockers!

Where's Dwighty?
Weekend Loungin'

100

Grape-Crushers

Rare

Live life on the wild side with the latest urban fashion!

Sick!

White Wine
Wine N Dine

250

4500

Matcha Cappuccinos

Rare

Live life on the wild side with the latest urban fashion!

Sick!

Black Coffee
Wine N Dine

250

4500

Cherries on Top

Rare

Live life on the wild side with the latest urban fashion!

Sick!

Coffee Bean
Wine N Dine

300

5400

Freestyle Shorts

Rare

Golf shorts? Beach shorts? College campus shorts? All of those above? Yes! The versatility is incredible! Get these shorts on right now!
Freestyle with Argyle
College Daze

250

4500

Campus Shorts

Rare

Golf shorts? Beach shorts? College campus shorts? All of those above? Yes! The versatility is incredible! Get these shorts on right now!
Campus Life
College Daze

250

4500

Prepped Beach Shorts

Rare

Golf shorts? Beach shorts? College campus shorts? All of those above? Yes! The versatility is incredible! Get these shorts on right now!
Prepped and Ready
College Daze

300

Tight Tights

Very Rare

Just when Dwight thought things couldn't get worse, he ripped his tights. He had to borrow this pair of weathered, second-hand tights for the rest of his contract.
Mr. Elf
Winter Tales

400

7200

Distressed Denim

Very Rare

Naturally torn and dusty, these jeans are accidentally in style.
Chute Malfunction
Team Building Day

400

7200

Petrol Pants

Very Rare

The stench of spilled gasoline from the few times Dwight overfilled a gas tank still lingers in the fabric. How long until the stench of blood overpowers it?
The Great Gas Jockey
Route 66

400

Spandex Tights

Very Rare

Seamless, stretchy pants made of polyester materials that wick away moisture as Dwight cycles up cruel hills.
Pizza Delivery Boy
Quick Bites

400

Slippery Charlatan Trousers

Very Rare

These trousers have walked many long roads in search of many well-deserving customers.

Hey, hey! You over there! How would you like to see something amazing?

Snake Oil Merchant
Fog Travelers

400

Mousy Slippers

Very Rare

Not a creature was stirring, not even Dwight's slippers.
Dwight-in-a-Box
Holiday Horror

400

7200

Dusty Nut Brown Trousers

Event

Loose-fitted trousers for carrying a heavy, rattling keyring.
Vigo's Apprentice
Hallowed Blight

400
Meg Thomas
Expand to view content
Icon
Name
Rarity
Description
Contents
Collection
Price
Track and Field

Common

Perfect for the energetic athlete in everyone. Provides support and comfort while keeping you dry.
Fitted Cap (Purple/Green)

Sleeveless Sport Top (Charcoal)

Runner Leggings (Dark Gray)

Meg Essentials

135

2700

Track and Field

Common

Perfect for the energetic athlete in everyone. Provides support and comfort while keeping you dry.
Fitted Cap (Light Blue/Yellow)

Sleeveless Sport Top (Lavender/Green)

Runner Leggings (Light Green)

Meg Essentials

135

2700

Track and Field

Common

Perfect for the energetic athlete in everyone. Provides support and comfort while keeping you dry.
Fitted Cap (Green/Yellow)

Sleeveless Sport Top (Lime Green/Olive Green)

Runner Leggings (Dark Yellow)

Meg Essentials

135

2700

Track and Field

Common

Perfect for the energetic athlete in everyone. Provides support and comfort while keeping you dry.
Fitted Cap (Brown/Yellow)

Sleeveless Sport Top (Beige/Red)

Runner Leggings (Dark Red)

Meg Essentials

135

2700

Track and Field

Common

Perfect for the energetic athlete in everyone. Provides support and comfort while keeping you dry.
Fitted Cap (Blue/Red)

Sleeveless Sport Top (Blue/Red)

Runner Leggings (Blue)

Meg Essentials

135

2700

Artic Fox

Uncommon

Get a head start on the competition with this cold weather outfit and running shoes combo.
Sleek & Frosty

Polar Running Vest

Snowy Running Shorts

Winter Sprinter

270

5400

Ginger Ninja

Uncommon

Get a head start on the competition with this cold weather outfit and running shoes combo.
Bloody Red Ponytail

Smoke Bomb Running Vest

Shuriken Running Shorts

Winter Sprinter

270

5400

Basket Brawler

Uncommon

Get a head start on the competition with this cold weather outfit and running shoes combo.
Amazon War Paint

Active Brawler Vest

Baller Shorts

Winter Sprinter

270

5400

The Brat

Rare

A bit of switft-talking, a bit of common sense, a couple of self-defense classes. Ready to take on the world!
Wild One Rough Cut

Misguided Sleeveless Top

Rascal Ripped Jeans

Street Smart

675

13500

Love Buzz

Rare

A bit of switft-talking, a bit of common sense, a couple of self-defense classes. Ready to take on the world!

Just ain't the way it seems.

Grunge Scene

Mosh Pit Sleeveless Top

Nevermind Ripped Jeans

Street Smart

675

13500

Indie Rebel

Rare

A bit of switft-talking, a bit of common sense, a couple of self-defense classes. Ready to take on the world!

Later nerds!

Edgy Rough Cut

Disorderly Sleeveless Top

Restless Ripped Jeans

Street Smart

675

Grand Slammer

Rare

You know what they say: Play with respect, win with grace. Now shut up and serve!
Smashing Braids

Thumping Tennis Polo

Slamming Tennis Skirt

Game Set Match

675

13500

Forty-Love

Rare

You know what they say: Play with respect, win with grace. Now shut up and serve!
Break-Point Braids

Over the Net Polo

Backspin Tennis Skirt

Game Set Match

675

13500

Racket Scientist

Rare

You know what they say: Play with respect, win with grace. Now shut up and serve!
Red Racket Braids

Pink Racket Polo

Salmon Skirt

Game Set Match

810

End of Semester

Very Rare

Meg is not the ideal student, far from it. It's her last break before college and she intends to celebrate.
Starry Undercut

Disco Ball Tank Top

Dark Cargo Pants

Winter Tales

1080

Neon Fanatic

Very Rare

Come out of your shell with this outgoing, action-ready outfit, perfect for an April day.
White Sweatband

Shell Jacket

Shorts and Socks

Wicked Wares

1080

Tempo Runner

Very Rare

Grab some ice, cool down, and enjoy the endorphin rush after a fierce workout.
Braids

Breezy Tank Top

Active Force Split-Shorts

The Intensity

1080

21600

Furious Vandal

Very Rare

Anger was boiling up. She didn't know where to direct it so she kept moving, trying to keep herself from stopping and thinking.
Fiery Mane

Cropped Denim Jacket

Drop-Crotch Pants

Mean Streets

1080

Sporty Beauty Queen

Very Rare

Dance the night away on Taiko drums. When you crave a good rush, there's no stopping you.
Messy Braided Bun

Chrysanthemum Dress Top

Edgy Leather Leggings

Grim Matsuri

1080

Forturne Teller

Very Rare

Welcome to the traveling carnival! Come one, come all! See the most exotic spectacles and unimaginable oddities ever seen by a human eye!
Carnie Long Locks

Divination Top

Prophetic Skirt

Fog Travelers

1080

Cross-County Hiker

Very Rare

Survival is just a matter of preparedness, no matter in which woods you find yourself.
All-Weather Cap

Trial Essentials Backpack

Hiking Leggings

Boondocks Bounty

1080

Red Hot Runner

Very Rare

Hit the ground running! This fitness outfit will keep you dry and comfortable throughout a wide range of physical activities.
Ruby Bob

Crimson Sleeveless Crop Top

Scarlet Mid Length Trousers

Athletic Active

1080

21600

White Valkarie

Very Rare

Hit the ground running! This fitness outfit will keep you dry and comfortable throughout a wide range of physical activities.
Ashen Bob

Gold Wings Top

Gold Wings Pants

Athletic Active

1080

Oktober Enchantment

Very Rare

Meg made the most of her city's Oktoberfest celebration, always having an outfit ready.
Festival Braids

Floral Bodice

Baltic Meadow Pants

Oktoberfest

1080

21600

Hot Rod Riveter

Very Rare

Rather than attend her school's 50's dance in poodle skirt and bow, Meg went as a tough-as-nails mechanic with a colorful personality.
Bandana Retro

Page Turner

Nine to Fives

Rockabilly

1080
Expand to view content
Icon
Name
Rarity
Description
Outfit
Collection
Price
Fitted Cap (Purple/Green)

Common

This cap will keep the sun out of your eyes during sunset runs.
Track and Field
Meg Essentials

50

900

Fitted Cap (Light Blue/Yellow)

Common

This cap will keep the sun out of your eyes during sunset runs.
Track and Field
Meg Essentials

50

900

Fitted Cap (Green/Yellow)

Common

This cap will keep the sun out of your eyes during sunset runs.
Track and Field
Meg Essentials

50

900

Fitted Cap (Brown/Yellow)

Common

This cap will keep the sun out of your eyes during sunset runs.
Track and Field
Meg Essentials

50

900

Fitted Cap (Red/Blue)

Common

This cap will keep the sun out of your eyes during sunset runs.
Track and Field
Meg Essentials

50

900

Sleek and Frosty

Uncommon

Slicked back, coz shiz just got serious!
Artic Fox
Winter Sprinter

100

1800

Blood Red Ponytail

Uncommon

Slicked back, coz shiz just got serious!
Ginger Ninja
Winter Sprinter

100

1800

Amazon War Paint

Uncommon

Slicked back, coz shiz just got serious!

This means war! #warmegg

Basket Brawler
Winter Sprinter

100

1800

Wild One Rough Cut

Rare

It's all about the attitude!
The Brat
Street Smart

250

4500

Grunge Scene

Rare

It's all about the attitude!
Love Buzz
Street Smart

250

4500

Edgy Rough Cut

Rare

It's all about the attitude!

Comes with +2 ATTITUDE reflective glasses.

Indie Rebel
Street Smart

250

Smashing Braids

Rare

These hot braids take you straight off the tennis court, and into the fire!
Grand Slammer
Game Set Match

250

4500

Break-Point Braids

Rare

These hot braids take you straight off the tennis court, and into the fire!

You only live once, but you get to serve twice.

Forty-Love
Game Set Match

250

4500

Red Racket Braids

Rare

These hot braids take you straight off the tennis court, and into the fire!
Racket Scientist
Game Set Match

300

Starry Undercut

Very Rare

She was meeting her friends at a house party after her last exam. It was the perfect time to make a bold statement.
End of Semester
Winter Tales

400

White Sweatband

Very Rare

White cotton headband that serves mainly to keep the hair out of your eyes. Can also be used as a makeshift bandage, or to soothe a splinter.
Neon Fanatic
Wicked Wares

400

Braids

Very Rare

A gutsy, intimidating look that's practical for long-haired athletes. Comes with a mobile headset to catch some social time between workouts.
Tempo Runner
The Intensity

400

7200

Fiery Mane

Very Rare

When the emotions were too strong, she would find a hefty rock and a window that no one would miss. The old factories didn't take much for Meg to break into.
Furious Vandal
Mean Streets

400

Messy Braided Bun

Very Rare

What was once a sophisticated bun is now a braided mess.
Sporty Beauty Queen
Grim Matsuri

400

Carnie Long Locks

Very Rare

Some people believe that red hair is a sign of bad luck. Perhaps it is merely a sign of something more mysterious?
Fortune Teller
Fog Travelers

400

All-Weather Cap

Very Rare

With this waterproof cap and shades, you're prepared for anything nature can throw at you.
Cross-Country Hiker
Boondocks Bounty

400

Ruby Bob

Very Rare

A stylish, low-maintenance haircut that is all about sass and aerodynamics.
Red Hot Runner
Athletics Active

400

7200

Ashen Bob

Very Rare

A stylish, low-maintenance haircut that is all about sass and aerodynamics.
White Valkarie
Athletics Active

400

Festival Braids

Very Rare

A pleasant style of braids, each wrapped with a bow. Undeniably wholesome.
Oktober Enchantment
Oktoberfest

400

7200

Bandana Retro

Very Rare

A working style that keeps hair swept back with a strategically placed bandana.
Hot Rod Riveter
Rockabilly

400
Expand to view content
Icon
Name
Rarity
Description
Outfit
Collection
Price
Sleeveless Sport Top (Charcoal)

Common

The perfect blend of performance material and comfort.
Track and Field
Meg Essentials

50

900

Sleeveless Sport Top (Lavender/Green)

Common

The perfect blend of performance material and comfort.
Track and Field
Meg Essentials

50

900

Sleeveless Sport Top (Lime Green/Olive Green

Common

The perfect blend of performance material and comfort.
Track and Field
Meg Essentials

50

900

Sleeveless Sport Top (Beige/Red)

Common

The perfect blend of performance material and comfort.
Track and Field
Meg Essentials

50

900

Sleeveless Sport Top (Blue/Red)

Common

The perfect blend of performance material and comfort.
Track and Field
Meg Essentials

50

900

Polar Running Vest

Uncommon

This puffy running vest keeps you nice and warm while exercising in outdoor conditions.
Artic Fox
Winter Sprinter

100

1800

Smoke Bomb Running Vest

Uncommon

This puffy running vest keeps you nice and warm while exercising in outdoor conditions.
Ginger Ninja
Winter Sprinter

100

1800

Active Brawler Vest

Uncommon

This puffy running vest keeps you nice and warm while exercising in outdoor conditions.
Basket Brawler
Winter Sprinter

100

1800

Misguided Sleeveless Top

Rare

Sleeveless top and bling. Representing the streets.
The Brat
Street Smart

250

4500

Mosh Pit Sleeveless Top

Rare

Sleeveless top and bling. Representing the streets.
Love Buzz
Street Smart

250

4500

Disorderly Sleeveless Top

Rare

Sleeveless top and bling. Representing the streets.

ZZZZZZAAAAPP!

Indie Rebel
Street Smart

250

Thumping Tennis Polo

Rare

The classic tennis polo. Keeps everything at a comfortable temperature.
Grand Slammer
Game Set Match

250

4500

Over the Net Polo

Rare

The classic tennis polo. Keeps everything at a comfortable temperature.
Forty-Love
Game Set Match

250

4500

Pink Racket Polo

Rare

The classic tennis polo. Keeps everything at a comfortable temperature.
Racket Scientist
Game Set Match

300

Buzzer Beater

Rare

The last-minute victory is all the sweater.
No Outfit
Ugly Sweaters

250

4500

Disco Ball Tank Top

Very Rare

Her shirt caught all the light in the room. For one night, Meg wanted to be in the spotlight far away from the running track.
End of Semester
Winter Tales

400

Shell Jacket

Very Rare

Lightweight, breathable jacket. Keeps you cool while jogging on a beach, and warm while running through a sewer at night.
Neon Fanatic
Wicked Wares

400

Breezy Tank Top

Very Rare

A lightweight top draped over a dark sports bra. The dropped armholes allow for airflow so you can reach your anaerobic threshold without burning up.
Tempo Runner
The Intensity

400

7200

Cropped Denim Jacket

Very Rare

She got to know every street in Denver, every back alley. She knew how to look the part, blend into the crowds of stylish street rats who posed along the graffitied walls and empty lots while still having a warm home to return to.
Furious Vandal
Mean Streets

400

Chrysanthemum Dress Top

Very Rare

A sporty twist on a stylish floral silk dress. Pretty and practical!
Sporty Beauty Queen
Grim Matsuri

400

Divination Top

Very Rare

A layered top, light and comfortable. Perfect for days working at the carnival.
Fortune Teller
Fog Travelers

400

Trial Essentials Backpack

Very Rare

You can survive alone for weeks in the wilderness with this gear. At least, you hope you're alone out there.
Cross-Country Hiker
Boondocks Bounty

400

Crimson Sleeveless Crop Top

Very Rare

A cute sporty top that shows off the abs!
Red Hot Runner
Athletics Active

400

7200

Gold Wings Top

Very Rare

A cute sporty top that shows off the abs!

Wings of the Valkarie

White Valkarie
Athletics Active

400

Floral Bodice

Very Rare

Though it would have been common hundreds of years ago, this peasant-style bodice is a rare attention-catching look in modern time.
Oktober Enchantment
Oktoberfest

400

7200

Page Turner

Very Rare

Bright and bold designs from old-timey comic art.
Hot Rod Riveter
Rockabilly

400
Expand to view content
Icon
Name
Rarity
Description
Outfit
Collection
Price
Runner Leggings (Dark Gray)

Common

Stretchy in all the right places with outstanding support for the hamstrings.
Track and Field
Meg Essentials

50

900

Runner Leggings (Light Green)

Common

Stretchy in all the right places with outstanding support for the hamstrings.
Track and Field
Meg Essentials

50

900

Runner Leggings (Dark Yellow)

Common

Stretchy in all the right places with outstanding support for the hamstrings.
Track and Field
Meg Essentials

50

900

Runner Leggings (Dark Red)

Common

Stretchy in all the right places with outstanding support for the hamstrings.
Track and Field
Meg Essentials

50

900

Runner Leggings (Blue)

Common

Stretchy in all the right places with outstanding support for the hamstrings.
Track and Field
Meg Essentials

50

900

Snowy Running Shorts

Uncommon

Light sports shorts, perfect for sneaking, sprinting, and vaulting.
Artic Fox
Winter Sprinter

100

1800

Shuriken Running Shorts

Uncommon

Light sports shorts, perfect for sneaking, sprinting, and vaulting.

Yo, smell ya later!

Ginger Ninja
Winter Sprinter

100

1800

Baller Shorts

Uncommon

Light sports shorts, perfect for sneaking, sprinting, and vaulting.
Basket Brawler
Winter Sprinter

100

1800

Rascal Ripped Jeans

Rare

Colorful and contemporary, fitted, ripped jeans.
The Brat
Street Smart

250

4500

Nevermind Ripped Jeans

Rare

Colorful and contemporary, fitted, ripped jeans.
Love Buzz
Street Smart

250

4500

Restless Ripped Jeans

Rare

Colorful and contemporary, fitted, ripped jeans.
Indie Rebel
Street Smart

250

Slamming Tennis Skirt

Rare

A pleated tennis skirt and tennis shoes. There's no way you can't win!
Grand Slammer
Game Set Match

250

4500

Backspin Tennis Skirt

Rare

A pleated tennis skirt and tennis shoes. There's no way you can't win!
Forty-Love
Game Set Match

250

4500

Salmon Skirt

Rare

A pleated tennis skirt and tennis shoes. There's no way you can't win!
Racket Scientist
Game Set Match

300

Dark Cargo Pants

Very Rare

Even if she wanted to be the center of attention, she still prized comfort above all.
End of Semester
Winter Tales

400

Shorts and Socks

Very Rare

Bitchin' look, dude. Gnarly even. Tubular tube socks, too.
Neon Fanatic
Wicked Wares

400

Active Force Split-Shorts

Very Rare

Side-split shorts optimal for racing and vaulting away from a deranged psychopath.
Tempo Runner
The Intensity

400

7200

Drop-Crotch Pants

Very Rare

There was something cathartic about the sound of shattered glass echoing through an empty street.
Furious Vandal
Mean Streets

400

Edgy Leather Leggings

Very Rare

A pair of vintage leather leggings held together by patches of faux copper. Perfect to stand out from the crowd.
Sporty Beauty Queen
Grim Matsuri

400

Prophetic Skirt

Very Rare

A long, patterned skirt and leather riding boots.

Your future clearly holds dirt, dust, and.... blood. Lots and lots of blood.

Fortune Teller
Fog Travelers

400

Hiking Leggings

Very Rare

You'll feel like you can walk for miles in these compression leggings.
Cross-Country Hiker
Boondocks Bounty

400

Scarlet Mid Length Trousers

Very Rare

Fitness pants and runners! Great for workouts and training.
Red Hot Runner
Athletic Active

400

7200

Gold Wings Pants

Very Rare

Fitness pants and runners! Great for workouts and training.

Speed of the Valkarie.

White Valkarie
Athletic Active

400

Baltic Meadow Pants

Very Rare

Slacks with a floral pattern that sprouts along the legs, combined with ankle suede boots.
Oktober Enchantment
Oktoberfest

400

7200

Nine to Fives

Very Rare

A hard-working denim style that's not afraid of a little grease.
Hot Rod Riveter
Rockabilly

400
Claudette Morel
Expand to view content
Icon
Name
Rarity
Description
Contents
Collection
Price
Science Kit

Common

A great indoor / outdoor study and research.
Woolen Beret (Light Gray)

Fitted Button-Up (Light Gray)

Skinny Denim (Gray)

Claudette Essentials

135

2700

Science Kit

Common

A great indoor / outdoor study and research.
Woolen Beret (Dark Orange)

Fitted Button-Up (Pink)

Skinny Denim (Navy Blue)

Claudette Essentials

135

2700

Science Kit

Common

A great indoor / outdoor study and research.
Woolen Beret (Charcoal)

Fitted Button-Up (Brown)

Skinny Denim (Mustard Yellow)

Claudette Essentials

135

2700

Science Kit

Common

A great indoor / outdoor study and research.
Woolen Beret (Brown)

Fitted Button-Up (Green)

Skinny Denim (Red)

Claudette Essentials

135

2700

Science Kit

Common

A great indoor / outdoor study and research.
Woolen Beret (Blue-Gray)

Fitted Button-Up (Light Blue)

Skinny Denim (Blue-Gray)

Claudette Essentials

135

2700

Karaoke Time

Uncommon

After a long day of doing science, the best way to unwind is to get the dancing shoes on and hit the town. Who's up for a night out?
High-Pitched Dreads

Empty Orchestra Frock

Lyrical High Waisted Pants

Night Out

270

5400

Speakeasy Survivor

Uncommon

After a long day of doing science, the best way to unwind is to get the dancing shoes on and hit the town. Who's up for a night out?

Clearly, a boosted animal.

Blind Tiger Glasses

After-Hours Frock

Bootleg High Waisted Leggings

Night Out

270

5400

Dark Grape

Rare

A fun, casual combination of sweater, skirt, and boots. Perfect for checking out some plants and lifeforms.

What a time to be alive.

Large Raisin Glasses

Black Cherry Sweater

Plum Skirt

Shrub Scholar

675

13500

Pineberry

Rare

A fun, casual combination of sweater, skirt, and boots. Perfect for checking out some plants and lifeforms.
Blueberry Glasses

White Strawberry Sweater

Blackberry Skirt

Shrub Scholar

675

13500

Coffee Bean

Rare

A fun, casual combination of sweater, skirt, and boots. Perfect for checking out some plants and lifeforms.
Large Walnut Glasses

Chocolate Mocha Sweater

Coconut Skirt

Shrub Scholar

810

Morning Glory

Rare

An elegant outfit for an elegant botanist. Chic and casual, yet professional and smart.

What's the story...?

Glorious Black Waves

Glorious Violet Jacket

Glorious Orange Skirt

Elegant Flower

675

13500

Burgundy Carnation

Rare

An elegant outfit for an elegant botanist. Chic and casual, yet professional and smart.
Burgundy Waves

Burgundy Jacket

Burgundy Skirt

Elegant Flower

675

13500

Wild Indigo

Rare

An elegant outfit for an elegant botanist. Chic and casual, yet professional and smart.
Wild Indigo Waves

Wild Violet Jacket

Wild Tartan Skirt

Elegant Flower

810

Winter Gala

Very Rare

For the New Year, Claudette was invited to attend the exclusive Winter Gala at the Montreal Metropolitan Science Center.
Braided High Bun

Sparkling Camisole

Satin Skirt

New Year Celebration

1080

21600

Spring Break

Very Rare

Kick back, relax, and forget about the impending chance of murder.
Tropical Dreads

Sun Seekers Halter

Persian Buttercup Sarong

Waterfront Massacre

1080

Frosh Week Warfare

Very Rare

Every night is a battle, every victory is part of a longer game.
Patrol Cap

Military Shirt

Muddy Combat Boots

Mean Streets

1080

21600

Chalet Getaway

Very Rare

She left the city behind. It was rainy when she reached the cabin-perfect for her research on the growth cycles of extinct mushrooms. This wet grey weather would make them pop in the mossy forest bed.
Canuck Beanie

Plaid Top

Sturdy Jeans & Waterproof Boots

Log Cabin

1080

21600

Open Day Student

Very Rare

It's open day season and the schools are busting with club activities, concerts, and refreshments. Join the bunksai for some wicked fun!
Dressy High Bun

Sora Robe Top

Shimmering Silk Trousers

Grim Matsuri

1080

Belle of the Ball

Very Rare

Glowing and glamorous, this outfit means that all the eyes will be on you. But all that attention may not be a good thing in the Entity's Realms.
Side-Parted Curls

Glittering Gown

White Heels

Gold & Silk

1080

Roving Healer

Very Rare

Where there is sickness and injury, there is a need for the soothing of the soul.
Wayfairer Bandanna

Medicine Woman Tunic Blouse

Deseret Traveler Long Skirt

Fog Travelers

1080

Claudette Claus

Very Rare

Growing up, Claudette was the driving force behind holiday cheer in her home.
Holly Jolly Beanie

Wooly Warmth

Elven Inspiration

Holiday Horror

1080

21600

Lab Intern

Very Rare

She was starting her internship at one of the leading centers in biochemical research.
First Impression

Pink Puffer Vest

Functional Denims

Monday Mornings

1080

21600

Vigo's Pupil

Event

Formally owned by an apothecary who used alchemy to obtain chemical and herbal ingredients into a prime material.
Woven Crown Braid

Sap Splattered Apron

Rough Undergarments

Hallowed Blight

1080
Expand to view content
Icon
Name
Rarity
Description
Outfit
Collection
Price
Woolen Beret (Light Gray)

Common

Make this familiar beret your choice of outdoor headgear.
Science Kit
Claudette Essentials

50

900

Fitted Cap (Dark Orange)

Common

Make this familiar beret your choice of outdoor headgear.
Science Kit
Claudette Essentials

50

900

Fitted Cap (Charcoal)

Common

Make this familiar beret your choice of outdoor headgear.
Science Kit
Claudette Essentials

50

900

Fitted Cap (Brown)

Common

Make this familiar beret your choice of outdoor headgear.
Science Kit
Claudette Essentials

50

900

Fitted Cap (Blue-Gray)

Common

Make this familiar beret your choice of outdoor headgear.
Science Kit
Claudette Essentials

50

900

High Pitched Dreads

Uncommon

Starry eyed and ready for whatever the future holds.

Funky dreadlocks for every occasion.

Karaoke Time
Night Out

100

1800

Blind Tiger Glasses

Uncommon

Starry eyed and ready for whatever the future holds.

Funky dreadlocks and cobalt blue glasses for every occasion.

Speakeasy Survivor
Night Out

100

1800

Large Raisin Glasses

Rare

A cute haircut and even cuter glasses. Helps with researching, looking super intelligent, and being able to see clearly.
Dark Grape
Shrub Scholar

250

4500

Blueberry Glasses

Rare

A cute haircut and even cuter glasses. Helps with researching, looking super intelligent, and being able to see clearly.
Pineberry
Shrub Scholar

250

4500

Large Walnut Glasses

Rare

A cute haircut and even cuter glasses. Helps with researching, looking super intelligent, and being able to see clearly.

With the perfect tropical flower fascinator accompaniment.

Coffee Bean
Shrub Scholar

300

Glorious Black Waves

Rare

Fancy waves, not just for the beach!

Blue glasses, not just for the library!

Morning Glory
Elegant Flower

250

4500

Burgundy Waves

Rare

Fancy waves, not just for the beach!
Burgundy Carnation
Elegant Flower

250

4500

Wild Violet Waves

Rare

Fancy waves, not just for the beach!
Wild Indigo
Elegant Flower

300

Tropical Dreads

Very Rare

Side-parted hairstyle that's impossibly both elegant and casual.
Spring Break
Waterfront Massacre

400

Braided High Bun

Very Rare

She pampered herself for the occasion, eager to discuss her role at the Montreal Metropolitan Science Center as the leader of its emerging tutoring program.
Winter Gala
New Year Celebration

400

7200

Patrol Cap

Very Rare

With the peak pulled down and the glasses on, you can blend into any situation.
Frosh Week Warfare
Mean Streets

400

7200

Dressy High Bun

Very Rare

An adorable high bun to create a classy look. The barrette could have been adapted for self-defense purposes if it wasn't so delicate.
Open Day Student
Grim Matsuri

400

Side-Parted Curls

Very Rare

A classic, natural hairstyle, matched with elegant eye shadow. It's your time to shine!
Belle of the Ball
Gold & Silk

400

Wayfairer Bandanna

Very Rare

A decorative bandanna head wrap that keeps the hair out of the face throughout the day.
Roving Healer
Fog Travelers

400

Canuck Beanie

Very Rare

She was used to the cold, but today was colder than usual. She felt the chill settle in her bones, despite her best efforts to keep warm.
Chalet Getaway
Log Cabin

400

7200

Holly Jolly Beanie

Very Rare

Given that Claudette is from Canada, she would have called this the Holly Jolly Toque.
Claudette Claus
Holiday Horror

400

7200

First Impression

Very Rare

A professional pair of glasses to start her first day with confidence.
Lab Intern
Monday Mornings

400

7200

Woven Crown Braid

Event

Two large braids tucked into each other to create a crown that keeps the natural hair tucked away during experiments.
Vigo's Pupil
Hallowed Blight

400
Expand to view content
Icon
Name
Rarity
Description
Outfit
Collection
Price
Fitted Button-Up (Light Gray)

Common

Comfortable smart casual wear for any occasion.
Science Kit
Claudette Essentials

50

900

Fitted Button-Up (Pink)

Common

Comfortable smart casual wear for any occasion.
Science Kit
Claudette Essentials

50

900

Fitted Button-Up (Brown)

Common

Comfortable smart casual wear for any occasion.
Science Kit
Claudette Essentials

50

900

Fitted Button-Up (Green)

Common

Comfortable smart casual wear for any occasion.
Science Kit
Claudette Essentials

50

900

Fitted Button-Up (Light Blue)

Common

Comfortable smart casual wear for any occasion.
Science Kit
Claudette Essentials

50

900

Empty Orchestra Frock

Uncommon

A cute top for fun times with friends. Don't spill your cocktails on it though!
Karaoke Time
Night Out

100

1800

After-Hours Frock

Uncommon

A cute top for fun times with friends. Don't spill your cocktails on it though!
Speakeasy Survivor
Night Out

100

1800

Black Cherry Sweater

Rare

A comfortable sweater and scarf to keep you warm on a cold, dark night. Great for outdoor research missions or even some quiet time in the library.
Dark Grape
Shrub Scholar

250

4500

White Strawberry Sweater

Rare

A comfortable sweater and scarf to keep you warm on a cold, dark night. Great for outdoor research missions or even some quiet time in the library.
Pineberry
Shrub Scholar

250

4500

Chocolate Mocha Sweater

Rare

A comfortable sweater and scarf to keep you warm on a cold, dark night. Great for outdoor research missions or even some quiet time in the library.
Coffee Bean
Shrub Scholar

300

Glorious Violet Jacket

Rare

The perfect jacket for having a great time out-and-about!
Morning Glory
Elegant Flower

250

4500

Burgundy Jacket

Rare

The perfect jacket for having a great time out-and-about!
Burgundy Carnation
Elegant Flower

250

4500

Wild Violet Jacket

Rare

The perfect jacket for having a great time out-and-about!
Wild Indigo
Elegant Flower

300

Earthly Delights

Rare

Did you know that the tomato is actually a fruit?
No Outfit
Ugly Sweaters Set

250

4500

Sun Seekers Halter

Very Rare

Let the sunlight (or moonlight) caress your skin with this cool and relaxed crop top.
Spring Break
Waterfront Massacre

400

Sparkling Camisole

Very Rare

She sparkled in her brand-new top, proudly representing the Science Centre's educational mission and sharing how science had changed her life.
Winter Gala
New Year Celebration

400

7200

Military Shirt

Very Rare

The name on the badge reads "Harris". Did you win it, or steal it? Part of you doesn't want to know the answer.
Frosh Week Warfare
Mean Streets

400

7200

Sora Robe Top

Very Rare

An urban-chic take on the Yukata, adjusted for long walks on hot summer days.
Open Day Student
Grim Matsuri

400

Glittering Gown

Very Rare

Exquisitely detailed beadwork and shimmering spangles, combined with a sparkling fringe, highlights the smallest motion.
Belle of the Ball
Gold & Silk

400

Medicine Woman Tunic Blouse

Very Rare

A loose fitting, off the shoulder blouse and silk sash, fashionable in all the current herbalist circles.
Roving Healer
Fog Travelers

400

Plaid Top

Very Rare

The forest felt like home. It was so much more than trees and grass and plants. She saw what it took to create life, a fragile and multilayered ecosystem that fascinated her.
Chalet Getaway
Log Cabin

400

7200

Wooly Warmth

Very Rare

A thick wool sweater that smothers the wearer in Holiday warmth.
Claudette Claus
Holiday Horror

400

7200

Pink Puffer Vest

Very Rare

Comfy clothes to keep you warm while collecting samples in the wild.
Lab Intern
Monday Mornings

400

7200

Sap Splattered Apron

Event

Old apron soiled by secretions, sap, and other unidentified liquids. Comes with alchemical tools such as cornea scalpels, tongue scrapers, and rusty stitching needles.
Vigo's Pupil
Hallowed Blight

400
Expand to view content
Icon
Name
Rarity
Description
Outfit
Collection
Price
Skinny Denim (Gray)

Common

The perfect jeans for the fashion conscious denim enthusiast.
Science Kit
Claudette Essentials

50

900

Skinny Denim (Navy Blue)

Common

The perfect jeans for the fashion conscious denim enthusiast.
Science Kit
Claudette Essentials

50

900

Skinny Denim (Mustard Yellow)

Common

The perfect jeans for the fashion conscious denim enthusiast.
Science Kit
Claudette Essentials

50

900

Skinny Denim (Red)

Common

The perfect jeans for the fashion conscious denim enthusiast.
Science Kit
Claudette Essentials

50

900

Skinny Denim (Blue-Gray)

Common

The perfect jeans for the fashion conscious denim enthusiast.
Science Kit
Claudette Essentials

50

900

Lyrical High Waisted Pants

Uncommon

Sexy leggings and the cutest leather booties. Time to get your party on!
Karaoke Time
Night Out

100

1800

Bootleg High Waisted Leggings

Uncommon

Sexy leggings and the cutest leather booties. Time to get your party on!
Speakeasy Survivor
Night Out

100

1800

Plum Skirt

Rare

Who's ready to have fun? This skirt, leggings, and over-the-knee suede boots will almost guarantee a fun evening of exotic plant watching.
Dark Grape
Shrub Scholar

250

4500

Blackberry Skirt

Rare

Who's ready to have fun? This skirt, leggings, and over-the-knee suede boots will almost guarantee a fun evening of exotic plant watching.

fullyimmersed

Pineberry
Shrub Scholar

250

4500

Coconut Skirt

Rare

Who's ready to have fun? This skirt, leggings, and over-the-knee suede boots will almost guarantee a fun evening of exotic plant watching.
Coffee Bean
Shrub Scholar

300

Glorious Orange Skirt

Rare

A comfortable, yet stylish skirt, fantastic for all social occasions.
Morning Glory
Elegant Flower

250

4500

Burgundy Skirt

Rare

A comfortable, yet stylish skirt, fantastic for all social occasions.
Burgundy Carnation
Elegant Flower

250

4500

Wild Tartan Skirt

Rare

A comfortable, yet stylish skirt, fantastic for all social occasions.
Wild Indigo
Elegant Flower

300

Persian Buttercup Sarong

Very Rare

A loose, silky sarong that dances in the wind.
Spring Break
Waterfront Massacre

400

Satin Skirt

Very Rare

She glided down the red carpet in her long skirt and smiled at the flashes of camera that captured this cold night.
Winter Gala
New Year Celebration

400

7200

Muddy Combat Boots

Very Rare

Who cares if your shoes are a little worn out? You like these boots. They're comfortable and reliable.
Frosh Week Warfare
Mean Streets

400

7200

Shimmering Silk Trousers

Very Rare

Fine silk trousers embroidered with shimmering materials. Reflect the dim light of paper lanterns on fresh summer nights.
Open Day Student
Grim Matsuri

400

White Heels

Very Rare

They may not be practical, but scientists can let loose once in a while.
Belle of the Ball
Gold & Silk

400

Desert Traveler Long Skirt

Very Rare

A loose, silk skirt and comfortable sandals are all you need for long days on the road.
Roving Healer
Fog Travelers

400

Sturdy Jeans & Waterproof Boots

Very Rare

While she tended to veer off path, she followed two simple rules. Keep an eye on the compass and keep your feet dry. She would always find her way back to the trail. Until one day, she didn't.
Chalet Getaway
Log Cabin

400

7200

Elven Inspiration

Very Rare

Skirt and socks inspired by the fashion of Santa's elves.
Claudette Claus
Holiday Horror

400

7200

Functional Denims

Very Rare

Loose jeans with wide pockets and a utility belt to carry all her equipment around.
Lab Intern
Monday Mornings

400

7200

Rough Undergarments

Event

Tomboyish garments adorned with a pair of sleek high top, lace-up boots.
Vigo's Pupil
Hallowed Blight

400
Jake Park
Expand to view content
Icon
Name
Rarity
Description
Contents
Collection
Price
Hunter Gatherer

Common

A basic outfit suited for to urban exploration... but try not to get lost in the woods.
Expedition Beanie (Teal)

Hiking Jacket (Green)

Sturdy Cargo Pants (Light Gray)

Jake Essentials

135

2700

Hunter Gatherer

Common

A basic outfit suited for to urban exploration... but try not to get lost in the woods.
Expedition Beanie (Green)

Hiking Jacket (Blue)

Sturdy Cargo Pants (Charcoal)

Jake Essentials

135

2700

Hunter Gatherer

Common

A basic outfit suited for to urban exploration... but try not to get lost in the woods.
Expedition Beanie (Dark Gray)

Hiking Jacket (Gray)

Sturdy Cargo Pants (Dark Gray)

Jake Essentials

135

2700

Hunter Gatherer

Common

A basic outfit suited for to urban exploration... but try not to get lost in the woods.
Expedition Beanie (Burgundy)

Hiking Jacket (Red)

Sturdy Cargo Pants (Turquoise)

Jake Essentials

135

2700

Hunter Gatherer

Common

A basic outfit suited for to urban exploration... but try not to get lost in the woods.
Expedition Beanie (Auburn)

Hiking Jacket (Brown)

Sturdy Cargo Pants (Green)

Jake Essentials

135

2700

New Utopia

Uncommon

Who needs the comfort of the modern world? Take on all challengers as a self-sufficient soldier of a new utopia society.
Defiant Sunglasses

Utopian Vest Jacket

Arcadian Work Slacks

Off-the-Grid

270

5400

Recluse

Uncommon

Who needs the comfort of the modern world? Take on all challengers as a self-sufficient soldier of a new utopia society.
Loner's Beanie

Loner's Vest Jacket

Loner's Work Slacks

Off-the-Grid

270

5400

Forager

Uncommon

Who needs the comfort of the modern world? Take on all challengers as a self-sufficient soldier of a new utopia society.
Scrounger

Recovered Vest Jacket

Mottled Camo Work Slacks

Off-the-Grid

324

The Savior

Rare

Be actively prepared for anything to go down and always ready for emergencies, disruptions or other deadly situations. Doomsday cometh! #sabogod
Resc-You-Me

Bronze Guardian Turtleneck

Deliverer Utility Trousers

Urban Survivalist

675

13500

Babyface

Rare

Be actively prepared for anything to go down and always ready for emergencies, disruptions or other deadly situations. Doomsday cometh!
Innocent Prepper

White Mummy Turtleneck

Young & Green Utility Trousers

Urban Survivalist

675

13500

Born in the USA

Rare

Be actively prepared for anything to go down and always ready for emergencies, disruptions or other deadly situations. Doomsday cometh!

Like a boss.

Liberty Party Boy

Stars N Stripes Turtleneck

Merica Utility Trousers

Urban Survivalist

810

Nonconformist

Rare

He rejected his privilege and left everything behind to find himself.
Hipster Beanie

Sheep Skin Denim

Olive Trousers

Urban Zenitude

675

13500

Life of the Party

Very Rare

Drop in with the perfect outfit for a house party. Made with synthetic fabrics that spilled beer can't stain.
Wrap Around Shades

Nylon Tracksuit Jacket

Nylon Tracksuit Pants

Wicked Wares

1080

Outdoorsman

Very Rare

Howdy partner! The perfect outfit for living off the land and keeping the sun off your neck.
Camper's Cowboy Hat

Fisherman's Sleeveless Shirt

Hunter's Combat Pants

Western Wrangler

1080

21600

Prospector

Very Rare

An expert in living off the land, Jake is also skilled in finding ways to survive below the surface.
Gatsby Cap

Dusty Tank Top

Tough Mining Pants

Threadbare Thirties

1080

21600

Woodworker

Very Rare

There was distinct satisfaction in sleeping in a shelter built from scratch. It was Jake's favorite way to unwind.
Bomber Hat

Puff on Plaid

Builder Denims

Log Cabin

1080

21600

Sullen Rōnin

Very Rare

Don't lose sight of yourself as you wander aimlessly: take every opportunity to redeem yourself.
Messy Topknot

Wool Noragi Jacket

Baggy Hakama Capri

Grim Matsuri

1080

The Stranger

Very Rare

On the road. Town to town. Yeah, it can be a hard life sometimes. What most people don't know, the journey IS the destination.
Washed Up Wash Out

Dashing Shirt and Jacket

Probably Dirty Jeans

Fog Travelers

1080

Winter Comfort

Very Rare

It was Jake's final holidays at home. Soon, his silk pajamas would be traded in for something more rustic. But for now, appearances had to be maintained.
Freeform

Silk Stripes

Golden Stag

Holiday Horror

1080

21600

Lunar Fusion

Very Rare

A modern American take on a traditional Korean style, inspired by the lunar new year.
Night Eye Teashades

Lunar Night

Race Stripe Baji

Lunar New Year 2020

1080

Vigo's Marauder

Event

Stumbling upon a derelict shack, he uncovered a hidden chest with strange glass vials. He took all he could carry.
Half Up Ponytail

Stolen Garment

Putrescent Apron

Hallowed Catalyst

1080
Expand to view content
Icon
Name
Rarity
Description
Outfit
Collection
Price
Expedition Hoodie (Teal)

Common

It's not because you're in the woods that you shouldn't look good.
Hunter Gatherer
Jake Essentials

50

900

Expedition Hoodie (Green)

Common

It's not because you're in the woods that you shouldn't look good.
Hunter Gatherer
Jake Essentials

50

900

Expedition Hoodie (Dark Gray)

Common

It's not because you're in the woods that you shouldn't look good.
Hunter Gatherer
Jake Essentials

50

900

Expedition Hoodie (Burgundy)

Common

It's not because you're in the woods that you shouldn't look good.
Hunter Gatherer
Jake Essentials

50

900

Expedition Hoodie (Auburn)

Common

It's not because you're in the woods that you shouldn't look good.
Hunter Gatherer
Jake Essentials

50

900

Defiant Sunglasses

Uncommon

A fresh-faced rebel with a cause. Voluntary disconnection with society has done wonders for the complexion.

Remain anonymous with these reflective sunglasses.

New Utopia
Off-the-Grid

100

1800

Loner's Beanie

Uncommon

A fresh-faced rebel with a cause. Voluntary disconnection with society has done wonders for the complexion.

Survive the winter months with this warm beanie.

Recluse
Off-the-Grid

100

1800

Scrounger

Uncommon

A fresh-faced rebel with a cause. Voluntary disconnection with society has done wonders for the complexion.
Forager
Off-the-Grid

120

Resc-You-Me

Rare

Survive the apocalypse with some well-kept long hair.
The Savior
Urban Survivalist

250

4500

Innocent Prepper

Rare

Survive the apocalypse with some well-kept long hair.
Babyface
Urban Survivalist

250

4500

Liberty Party Boy

Rare

Survive the apocalypse with some well-kept long hair.

Survive the sunset with these reflective shades.

Born in the USA
Urban Survivalist

300

Hipster Beanie

Rare

A relaxed look covering up that it's been a while since he's had a haircut.
Nonconformist
Urban Zenitude

250

4500

Wrap Around Shades

Very Rare

Just because it's night, and you're indoors, doesn't mean that your eyes don't need protecting.
Life of the Party
Wicked Wares

400

Camper's Cowbow Hat

Very Rare

Every cowboy needs the perfect cowboy hat and a handy piece of farmer's chewing gum.
Outdoorsman
Western Wrangler

400

7200

Gatsby Cap

Very Rare

Thick and padded, to prevent head injuries in low tunnels.
Prospector
The Threadbare Thirties

400

7200

Bomber Hat

Very Rare

Over the years, he dragged equipment out from his family's opulent renovations to work on his own project.
Woodworker
Log Cabin

400

7200

Messy Topknot

Very Rare

To keep the helmet in place and the hair away from the eyes during battle.
Sullen Rōnin
Grim Matsuri

400

Washed Up Wash Out

Very Rare

It's been a long day. No scratch that. Long year! Time to find somewhere to sleep it off. Maybe the next one will be better.

First things first... someone needs a haircut!

The Stranger
Fog Travelers

400

Freeform

Very Rare

A laissez-faire style that lets the hair fall where it may.
Winter Comfort
Holiday Horror

400

7200

Night Eye Teashades

Very Rare

A circular lens style that only a select few can pull off.
Lunar Fusion
Lunar New Year 2020

400

Half Up Ponytail

Event

A slick hairstyle combined with a covert face maks to remain undetected.
Vigo's Marauder
Hallowed Catalyst

400
Expand to view content
Icon
Name
Rarity
Description
Outfit
Collection
Price
Hiking Jacket (Green)

Common

Stay dry on the trails with this high performance hiking jacket.
Hunter Gatherer
Jake Essentials

50

900

Hiking Jacket (Blue)

Common

Stay dry on the trails with this high performance hiking jacket.
Hunter Gatherer
Jake Essentials

50

900

Hiking Jacket (Gray)

Common

Stay dry on the trails with this high performance hiking jacket.
Hunter Gatherer
Jake Essentials

50

900

Hiking Jacket (Red)

Common

Stay dry on the trails with this high performance hiking jacket.
Hunter Gatherer
Jake Essentials

50

900

Hiking Jacket (Brown)

Common

Stay dry on the trails with this high performance hiking jacket.
Hunter Gatherer
Jake Essentials

50

900

Utopian Vest Jacket

Uncommon

The end of days approach. Be prepared for all conditions with this warm vest jacket.
New Utopia
Off-the-Grid

100

1800

Loner's Vest Jacket

Uncommon

The end of days approach. Be prepared for all conditions with this warm vest jacket.
Recluse
Off-the-Grid

100

1800

Recovered Vest Jacket

Uncommon

The end of days approach. Be prepared for all conditions with this warm vest jacket.
Forager
Off-the-Grid

120

Bronze Guardian Turtleneck

Rare

This fitted turtleneck is perfect for waiting out the half-life of nuclear fallout in an underground shelter. Pretty stylish as well!
The Savior
Urban Survivalist

250

4500

White Mummy Turtleneck

Rare

This fitted turtleneck is perfect for waiting out the half-life of nuclear fallout in an underground shelter. Pretty stylish as well!
Babyface
Urban Survivalist

250

4500

Stars N Stripes Turtleneck

Rare

This fitted turtleneck is perfect for waiting out the half-life of nuclear fallout in an underground shelter. Pretty stylish as well!
Born in the USA
Urban Survivalist

300

Happy Ending

Rare

Well, it's a happy ending for the bears.
No Outift
Ugly Sweaters

250

4500

Sheep Skin Denim

Rare

A warm jacket for those colder nights away from home.
Nonconformist
Urban Zenitude

250

4500

Nylon Tracksuit Jacket

Very Rare

Light, bright and sure to get you noticed.
Life of the Party
Wicked Wares

400

Fisherman's Sleeveless Shirt

Very Rare

This collared sleeveless shirt is light and allows for maximum amount of airflow to keep you cool in the sun.
Outdoorsman
Western Wrangler

400

7200

Dusty Tank Top

Very Rare

Underground tunnels are surprisingly hot, and tops like this are a must. However, watch those sharp exposed arms on sharp rock.
Prospector
The Threadbare Thirties

400

7200

Puff on Plaid

Very Rare

He constructed a crude hovel—admittedly far from perfect—that he modified over time.
Woodworker
Log Cabin

400

7200

Wool Noragi Jacket

Very Rare

A warm woolen cardigan with a touch of avant-garde to retain body heat on wintry nights by the campfire.
Sullen Rōnin
Grim Matsuri

400

Dashing Shirt and Jacket

Very Rare

This jacket is the most comforting travel companion one can find on the road.

Hey, baby! Come closer, come closer! Let me play you my guitar.

The Stranger
Fog Travlers

400

Golden Stag

Very Rare

Jake's father micromanaged everyone's outfit for the family's morning holiday photo. Conveying strength, even during the holidays, was important.
Winter Comfort
Holiday Horror

400

7200

Lunar Night

Very Rare

A two-tone Korean hanbok representing the dusk, decorated with vine and floral patterns.
Lunar Fusion
Lunar New Year 2020

400

Stolen Garment

Event

Clean clothes from an unidentified time period with a bag to carry the loot he'd found.
Vigo's Marauder
Hallowed Catalyst

400
Expand to view content
Icon
Name
Rarity
Description
Outfit
Collection
Price
Sturdy Cargo Pants (Light Gray)

Common

All-adventure outdoor wear for the man who needs a lot of pockets.
Hunter Gatherer
Jake Essentials

50

900

Sturdy Cargo Pants (Charcoal)

Common

All-adventure outdoor wear for the man who needs a lot of pockets.
Hunter Gatherer
Jake Essentials

50

900

Sturdy Cargo Pants (Dark Gray)

Common

All-adventure outdoor wear for the man who needs a lot of pockets.
Hunter Gatherer
Jake Essentials

50

900

Sturdy Cargo Pants (Turquoise)

Common

All-adventure outdoor wear for the man who needs a lot of pockets.
Hunter Gatherer
Jake Essentials

50

900

Sturdy Cargo Pants (Green)

Common

All-adventure outdoor wear for the man who needs a lot of pockets.
Hunter Gatherer
Jake Essentials

50

900

Arcadian Work Slacks

Uncommon

Whether scrounging at dump sites, or constructing makeshift shelters, these work slacks will keep you warm and comfortable.
New Utopia
Off-the-Grid

100

1800

Loner's Work Slacks

Uncommon

Whether scrounging at dump sites, or constructing makeshift shelters, these work slacks will keep you warm and comfortable.
Recluse
Off-the-Grid

100

1800

Mottled Camo Work Slacks

Uncommon

Whether scrounging at dump sites, or constructing makeshift shelters, these work slacks will keep you warm and comfortable.
Forager
Off-the-Grid

120

Deliverer Utility Trousers

Rare

High-quality utility trousers with multiple utility pockets. Utility belt not included.
The Savior
Urban Survivalist

250

4500

Young & Green Utility Trousers

Rare

High-quality utility trousers with multiple utility pockets. Utility belt not included.
Babyface
Urban Survivalist

250

4500

Murica Utility Trousers

Rare

High-quality utility trousers with multiple utility pockets. Utility belt not included.
Born in the USA
Urban Survivalist

300

Olive Trousers

Rare

Contemporary loose pants for maximum comfort and style.
Nonconformist
Urban Zenitude

250

4500

Nylon Tracksuit Pants

Very Rare

Won't rip or wear, even through a whole night of doing the Butterfly.
Life of the Party
Wicked Wares

400

Hunter's Combat Pants

Very Rare

Stay on your toes with these military-grade combat pants, fully equipped with kneepads. Great for slipping, sliding, crouching, and crawling.
Outdoorsman
Western Wrangler

400

7200

Tough Mining Pants

Very Rare

Hardwearing and tied at the knee, to protect them from pools of underground water.
Prospector
The Threadbare Thirties

400

7200

Builder Denims

Very Rare

This shed kept him safe through the cold, rainy nights. Or so he thought.
Woodworker
Log Cabin

400

7200

Baggy Hakama Capri

Very Rare

A modern hakama crafted with top quality cotton. Comes with ankle straps to provide a wider range of motion during a fight.
Sullen Rōnin
Grim Matsuri

400

Probably Dirty Jeans

Very Rare

That's a fine layer of road dust that has built up on these trousers.
The Stranger
Fog Travelers

400

Silk Stripes

Very Rare

There was distinct satisfaction in sleeping in a shelter built from scratch. It was Jake's favorite way to unwind.
Winter Comfort
Holiday Horror

400

7200

Race Stripe Baji

Very Rare

Loose fitting, formal pants paired with sleek black loafers.
Lunar Fusion
Lunar New Year 2020

400

Putrescent Apron

Event

A stained apron that kept blood from ruining his pants.
Vigo's Marauder
Hallowed Catalyst

400
Nea Karlson
Expand to view content
Icon
Name
Rarity
Description
Contents
Collection
Price
Tagging Vandal

Common

A grunge androgynous street style for the nonconformist artist.
Scotch Shirt (Light Gray)

Low-Rise Jeans (Dark Gray)

Nea Essentials

90

1800

Tagging Vandal

Common

A grunge androgynous street style for the nonconformist artist.
Scotch Shirt (Light Brown)

Low-Rise Jeans (Brown)

Nea Essentials

90

1800

Tagging Vandal

Common

A grunge androgynous street style for the nonconformist artist.
Scotch Shirt (Purple)

Low-Rise Jeans (Navy Blue)

Nea Essentials

90

1800

Tagging Vandal

Common

A grunge androgynous street style for the nonconformist artist.
Scotch Shirt (Green)

Low-Rise Jeans (Light Brown)

Nea Essentials

90

1800

Tagging Vandal

Common

A grunge androgynous street style for the nonconformist artist.
Scotch Shirt (Blue)

Low-Rise Jeans (Light Green)

Nea Essentials

90

1800

Plenty O' Pineapples

Uncommon

Trendy street fashion for adolescent boys or girls.
Lobsters and Pineapples

Accented Ananas

Floral Fruits Boardshorts

Tomboy Trends

270

5400

Call of the Wild

Uncommon

Trendy street fashion for adolescent boys or girls.
Black Cat White Cap

Stylized Varg

Wild Rose Boardshorts

Tomboy Trends

270

5400

Black Cat White Cat

Uncommon

Trendy street fashion for adolescent boys or girls.
Black Cat Side-Shave

Svart Shirt

Dark Denim Boardshorts

Tomboy Trends

270

Troublemaker

Rare

Hit the streets in this funky outfit and become an agent of chaos. It's time to introduce a little anarchy!

We stopped looking for monsters under our bed when we realized they were inside us.

Childish Pink Punk Cut

Juvenile Jet Vest Top

Defiant Ripped Shorts

Street Rebel

675

13500

Skater

Rare

Hit the streets in this funky outfit and become an agent of chaos. It's time to introduce a little anarchy!
Tic Tac Teal Punk Cut

Ollie Cat Vest Top

Railslide Ripped Shorts

Street Rebel

675

13500

Tagger

Rare

Hit the streets in this funky outfit and become an agent of chaos. It's time to introduce a little anarchy!
Spray Can Fuchsia Punk Cut

Serious Vandal Vest Top

Tartan Tagger Ripped Shorts

Street Rebel

810

Howdy Cat

Very Rare

Iconic streetwear exuberating personality and making a statement with every kickflip.
Smokestack Beanie

Howdy Top

Death by Asphalt

The Road Less Traveled

1080

Old Town

Very Rare

Fashionable streetware for cool weather conditions. Great for social engagements about town.
Dark Skies Pixie Bob

Stortorget Sweater

Cobblestone Tartan Skirt

Stockholm Syndrome

1080

21600

Northern Lights

Very Rare

Fashionable streetware for cool weather conditions. Great for social engagements about town.
Violet Skies Pixie Bob

Sapphire Lake Sweater

Glacial Tartan Skirt

Stockholm Syndrome

1080

21600

Dark City

Very Rare

Fashionable streetware for cool weather conditions. Great for social engagements about town.
Cloudy Skies Pixie Bob

Pink Kitty Sweater

City Silhouse

Stockholm Syndrome

1080

Modern Rebel

Very Rare

A punk aesthetic, updated for the modern age.
Undercut Comb-Back

Cropped Hoodie

Lightweight Pants

Neon Nights

1080

Cyber Punk

Very Rare

Whether you're speeding down neon streets on a motorbike or hacking a door lock, you own the night.
Dark and Light

Biker's Jacket

Punk Pedal Pushers

Mean Streets

1080

21600

Harajuku Graffiti Artist

Very Rare

Roam the backsteets of Shimokitazawa and find the perfect spot to paint your mark.
Pastel Bob Wig - Matsuri

Cute Rocking Bears Shirt

Baggy Denim Pants

Grim Matsuri

1080

Graff-Crafter

Very Rare

She hit the streets with her art to escape the mundane life she'd been forced to live miles away from her home country.
One-piece Outfit
Neon Swirl

1080

Rebel Night

Very Rare

Nea was a student of counter-culture movements. Her choice of fashion was an homage to history's rebels.
Greaser Gal

Classic Leather

Blackout

Rockabilly

1080
Expand to view content
Icon
Name
Rarity
Description
Outfit
Collection
Price
Lobsters and Pineapples

Uncommon

A cutting-edge, long hair style straight from the mosh pits and the boiler rooms.

Pretty neat pineapple cap as well.

Plenty O' Pineapples
Tomboy Trends

100

1800

Black Cat White Cap

Uncommon

A cutting-edge, long hair style straight from the mosh pits and the boiler rooms.

This cap is straight from the local skate shop.

Call of the Wild
Tomboy Trends

100

1800

Black Cat Side-Shave

Uncommon

A cutting-edge, long hair style straight from the mosh pits and the boiler rooms.
Black Cat White Cat
Tomboy Trends

100

Childish Pink Punk Cut

Rare

A bright, fresh punk haircut that highlights the real street attitude.
Troublemaker
Street Rebel

250

4500

Tic Tac Teal Punk Cut

Rare

A bright, fresh punk haircut that highlights the real street attitude.

Spicy!

Skater
Street Rebel

250

4500

Spray Can Fuchsia Punk Cut

Rare

A bright, fresh punk haircut that highlights the real street attitude.
Tagger
Street Rebel

300

Blond Skull

Very Rare

She was confident that no one could match her skills or style.
Reckless Boarder
Wintertime

400

7200

Smokestack Beanie

Very Rare

Straightened blonde hair further bleached by the sunlight and topped with a charcoal colored beanie. Hybrid fashion, somewhere between punk and grunge.
Howdy Cat
The Road Less Traveled

400

Dark Skies Pixie Bob

Very Rare

A cute, funky hairstyle, belying the true intentions behind those seemingly innocent eyes.
Old Town
Stockholm Syndrome

400

7200

Violet Skies Pixie Bob

Very Rare

A cute, funky hairstyle, belying the true intentions behind those seemingly innocent eyes.
Northern Lights
Stockholm Syndrome

400

7200

Cloudy Skies Pixie Bob

Very Rare

A cute, funky hairstyle, belying the true intentions behind those seemingly innocent eyes.
Dark City
Stockholm Syndrome

400

Undercut Comb-Back

Very Rare

Easy to maintain and makes a statement. Paired with amber-tinted glasses that improve night vision.
Modern Rebel
Neon Nights

400

Dark and Light

Very Rare

Black sunglasses matched with colorful hair. And an attitude that can't be missed.
Cyber Punk
Mean Streets

400

7200

Pastel Bob Wig - Matsuri

Very Rare

This blunt bob keeps you anonymous, while the face mask protects you from any toxic substances. A must for artists who want all the fame and none of the hassle.
Harajuku Graffiti Artist
Grim Matsuri

400
Expand to view content
Icon
Name
Rarity
Description
Outfit
Collection
Price
Scotch Shirt (Light Gray)

Common

Will keep you warm on late night excursions.
Tagging Vandal
Nea Essentials

50

900

Scotch Shirt (Light Brown)

Common

Will keep you warm on late night excursions.
Tagging Vandal
Nea Essentials

50

900

Scotch Shirt (Purple)

Common

Will keep you warm on late night excursions.
Tagging Vandal
Nea Essentials

50

900

Scotch Shirt (Green)

Common

Will keep you warm on late night excursions.
Tagging Vandal
Nea Essentials

50

900

Scotch Shirt (Blue)

Common

Will keep you warm on late night excursions.
Tagging Vandal
Nea Essentials

50

900

Accented Ananas

Uncommon

A loose, oversized designer shirt with a stylized image.

Be a pineapple...

Plenty O' Pineapples
Tomboy Trends

100

1800

Stylized Varg

Uncommon

A loose, oversized designer shirt with a stylized image.

Rrrrawwwwwwwrrrrrr!

Call of the Wild
Tomboy Trends

100

1800

Svart Katt

Uncommon

A loose, oversized designer shirt with a stylized image.

Some say a black cat is bad luck. Only one way to find out...

Black Cat White Cat
Tomboy Trends

100

Juvenile Jet Vest Top

Rare

This sleeveless vest top is super fashionable, but clearly spells trouble.
Troublemaker
Street Rebel

250

4500

Ollie Cat Vest Top

Rare

This sleeveless vest top is super fashionable, but clearly spells trouble.

The kitty on the back makes it a bit more innocent.

Skater
Street Rebel

250

4500

Serious Vandal Vest Top

Rare

This sleeveless vest top is super fashionable, but clearly spells trouble.

Apparently, someone has already tagged the back.

Tagger
Street Rebel

300

Cat Lady

Rare

Already as agile and graceful as a cat, this sweater adds 'warm' and 'fuzzy' to the list.
No Outfit
Ugly Sweaters

250

4500

Summit Jacket

Very Rare

A comfortable jacket allowing for a wide range of motion that kept her body warm and dry.
Reckless Boarder
Wintertime

400

7200

Howdy Top

Very Rare

Who can forget everyone's favorite 80's pop-culture icon Howdy Cat? Bring back the craze with this printed tee and custom-made skate deck.
Howdy Cat
The Road Less Traveled

400

Stortorget Sweater

Very Rare

This colorful sweater feels soft and warm, even if the weather isn't.
Old Town
Stockholm Syndrome

400

7200

Sapphire Lake Sweater

Very Rare

This colorful sweater feels soft and warm, even if the weather isn't.
Northern Lights
Stockholm Syndrome

400

7200

Pink Kitty Sweater

Very Rare

This colorful sweater feels soft and warm, even if the weather isn't.

Meow.

Dark City
Stockholm Syndrome

400

Cropped Hoodie

Very Rare

Warm on the arms and keeps the core cool, so long distance running is no problem.
Modern Rebel
Neon Nights

400

Biker's Jacket

Very Rare

Thick leather to protect you from road rash. Or knives. Depending on where the evening takes you.
Cyber Punk
Mean Streets

400

7200

Cute Rocking Bears Shirt

Very Rare

Venture Tokyo's underground with an adorable shirt, cozy arm warmers, and a backpack loaded with paint. For long nights searching for the tagging heaven spot.
Harajuku Graffiti Artist
Grim Matsuri

400
Expand to view content
Icon
Name
Rarity
Description
Outfit
Collection
Price
Low-Rise Jeans (Dark Gray)

Common

Tight on the thighs with just the right amount of slouch.
Tagging Vandal
Nea Essentials

50

900

Low-Rise Jeans (Brown)

Common

Tight on the thighs with just the right amount of slouch.
Tagging Vandal
Nea Essentials

50

900

Low-Rise Jeans (Navy Blue)

Common

Tight on the thighs with just the right amount of slouch.
Tagging Vandal
Nea Essentials

50

900

Low-Rise Jeans (Light Brown)

Common

Tight on the thighs with just the right amount of slouch.
Tagging Vandal
Nea Essentials

50

900

Low-Rise Jeans (Light Green)

Common

Tight on the thighs with just the right amount of slouch.
Tagging Vandal
Nea Essentials

50

900

Floral Fruits Boardshorts

Uncommon

Boardshorts, tall socks, and street shoes - the only way to rock this stylish look!
Plenty O' Pineapples
Tomboy Trends

100

1800

Wild Rose Boardshorts

Uncommon

Boardshorts, tall socks, and street shoes - the only way to rock this stylish look!
Call of the Wild
Tomboy Trends

100

1800

Dark Denim Boardshorts

Uncommon

Boardshorts, tall socks, and street shoes - the only way to rock this stylish look!
Black Cat White Cat
Tomboy Trends

100

Defiant Ripped Shorts

Rare

Ripped shorts and kick ass boots. Time to get stuff done!
Troublemaker
Street Rebel

250

4500

Railslide Ripped Shorts

Rare

Ripped shorts and kick ass boots. Time to get stuff done!
Skater
Street Rebel

250

4500

Tartan Tagger Ripped Shorts

Rare

Ripped shorts and kick ass boots. Time to get stuff done!
Tagger
Street Rebel

300

Snow Pants

Very Rare

Tough pants for the toughest hills of the Xtreme Circuit.
Reckless Boarder
Wintertime

400

7200

Death by Asphalt

Very Rare

Frayed, torn, shredded- these jeans have been tortured but keep coming back for more. Pairs with graffiti skate shoes featuring custom doodles from a daydreaming Nea.
Howdy Cat
The Road Less Traveled

400

Cobblestone Tartan Skirt

Very Rare

The classic pleated skirt and ankle boots for fun in the sun.
Old Town
Stockholm Syndrome

400

7200

Glacial Tartan Skirt

Very Rare

The classic pleated skirt and ankle boots for fun in the sun.
Northern Lights
Stockholm Syndrome

400

7200

City Silhouette Skirt

Very Rare

The classic pleated skirt and ankle boots for fun in the sun.
Dark City
Stockholm Syndrome

400

Lightweight Pants

Very Rare

Loose fitting and so comfortable they're like wearing nothing at all.
Modern Rebel
Neon Nights

400

Punk Pedal Pushers

Very Rare

Motorbike pegs count as pedals, right?
Cyber Punk
Mean Streets

400

7200

Baggy Denim Pants

Very Rare

A comfy pair of baggy pants to parkour you way out of trouble. Comes with a pair of lace-up leather boots to trample down anything standing between you and your sweet escape.
Harajuku Graffiti Artist
Grim Matsuri

400
Laurie Strode
Expand to view content
Icon
Name
Rarity
Description
Contents
Collection
Price
Wolf in Sheep's Clothing

Very Rare

She may seem like an average teenager, but she's the only one capable of fighting off the boogeyman.
Feathered Gold-Brown

October Cardigan

Flower Power

Haddonfield Nights

1080
Expand to view content
Icon
Name
Rarity
Description
Outfit
Collection
Price
Feathered Gold-Brown

Very Rare

A breezy style, trendy with the girls of 1978.
Wolf in Sheep's Clothing
Haddonfield Nights

400
Expand to view content
Icon
Name
Rarity
Description
Outfit
Collection
Price
October Cardigan

Very Rare

A warm cardigan to wear on Halloween when the chill of terror sets in.
Wolf in Sheep's Clothing
Haddonfield Nights

400
Expand to view content
Icon
Name
Rarity
Description
Outfit
Collection
Price
Flower Power

Very Rare

A flower print skirt that's completely impractical when fleeing from terror, but who could have expected it?
Wolf in Sheep's Clothing
Haddonfield Nights

400
Ace Visconti
Expand to view content
Icon
Name
Rarity
Description
Contents
Collection
Price
Aces and Eights

Common

Some call it a losing streak... but it's more like a winning streak that just hasn't started yet. While wearing the luckiest gear in the wardrobe, what could possibly go wrong?
Lucky Cap (Dark Red)

Charmed Jacket & Shirt (Ash Gray/Blue-Gray)

Fortuitous Jeans (Camel)

Ace Essentials

135

2700

Aces and Eights

Common

Some call it a losing streak... but it's more like a winning streak that just hasn't started yet. While wearing the luckiest gear in the wardrobe, what could possibly go wrong?
Lucky Cap (Slate Gray)

Charmed Jacket & Shirt (Black/Maroon)

Fortuitous Jeans (Light Blue)

Ace Essentials

135

2700

Aces and Eights

Common

Some call it a losing streak... but it's more like a winning streak that just hasn't started yet. While wearing the luckiest gear in the wardrobe, what could possibly go wrong?
Lucky Cap (Brown/Gray)

Charmed Jacket & Shirt (Brown/Plum)

Fortuitous Jeans (Dark Brown)

Ace Essentials

135

2700

Aces and Eights

Common

Some call it a losing streak... but it's more like a winning streak that just hasn't started yet. While wearing the luckiest gear in the wardrobe, what could possibly go wrong?
Lucky Cap (Rust)

Charmed Jacket & Shirt (Blue/Auburn)

Fortuitous Jeans (Charcoal)

Ace Essentials

135

2700

Aces and Eights

Common

Some call it a losing streak... but it's more like a winning streak that just hasn't started yet. While wearing the luckiest gear in the wardrobe, what could possibly go wrong?
Lucky Cap (Dark Green)

Charmed Jacket & Shirt (Maroon/Blue-Gray)

Fortuitous Jeans (Gray)

Ace Essentials

135

2700

Hey Ladies

Uncommon

Just a suave sophisticated lad. Hang with the right people in the right places.
Cool Dude Shades

Fistful O' Pineapples

Lady Killer Loafers

Man About Town

270

5400

Mover, Shaker

Uncommon

Just a suave sophisticated lad. Hang with the right people in the right places.
Bouncer Beard

Pink and Proud

Light and Loafy

Man About Town

270

5400

Too Sexy

Uncommon

Just a suave sophisticated lad. Hang with the right people in the right places.

'Cause I'm a model, you know what I mean?

No Messin' Around

Catwalk Shirt

Midnight Loafers

Man About Town

297

Pink Rascal

Rare

Gain the trust of any unsuspecting stooge. Bright pastels, big smile, quick talking, quicker fingers. It's showtime!
Trust Me Trilby

No Sweat Sweater

Sure Thing Slacks

Loveable Rouge

675

13500

Shady Scoundrel

Rare

Gain the trust of any unsuspecting stooge. Bright pastels, big smile, quick talking, quicker fingers. It's showtime!
Shady Trilby

Shady Mauve Sweater

Shady Magenta Slacks

Loveable Rouge

675

13500

Classy Charlatan

Rare

Gain the trust of any unsuspecting stooge. Bright pastels, big smile, quick talking, quicker fingers. It's showtime!
Fancy Fraud Trilby

Fake Flamingo Sweater

Phony Ninja Slacks

Loveable Rouge

810

Flying Ace

Very Rare

Luck's always out there, you just gotta get in your crosshairs and pull that trigger.
Officer's Crush Cap

Pin-Up Flight Jacket

Fighter Pilot Trousers

War is Hell

1080

21600

Rush of Spring

Very Rare

The flowers are blooming, the sun is out and Ace's luck is turning for the better: he has one of the golden tickets.
Rose-Tinted Glasses

Daisy Vest

Muddy Slacks

Spring Ensemble

1080

The Tomcat

Very Rare

Whether you are having a party in a casino, a nightclub, or a neighborhood grotto, you absolutely can not go past the classic smoking jacket. #sexualdemon
Night Owl Sunglasses

Lover Boy Jacket

Smooth Operators Slippers

Smoking Jacket

1080

21600

The High Roller

Very Rare

Whether you are having a party in a casino, a nightclub, or a neighborhood grotto, you absolutely can not go past the classic smoking jacket.
Ready to Roll

Money Maker Jacket

Hit the Jackpot Slippers

Smoking Jacket

1080

21600

The Golden Nugget

Very Rare

Whether you are having a party in a casino, a nightclub, or a neighborhood grotto, you absolutely can not go past the classic smoking jacket.
Gilded Gambler

Gold & Gravy Jacket

Sunglow Satin Slippers

Smoking Jacket

1080

Ace Vegas

Very Rare

Ace's debts sore to new heights. To get his luck back, he needed to visit his gambling mecca: Las Vegas.
Gelled Hairdo

Coarse Shag

Midnight Sequin Pants

Mean Streets

1080

Winter Wisecracks

Very Rare

The fabulous holiday suit was a way to disarm his opponents at the poker table, keeping them in good spirits until it was too late.
Reindeer Tracks

Ace Viscontree

Pine Legs

Holiday Horror

1080

Seasoned Gambler

Event

Hit the ground running! This fitness outfit will keep you dry and comfortable throughout a wide range of physical activities.
Salt & Pepper Pompadour

Red & Gold Tangzhuang

Dark Floral Trousers

Moonrise

1080
Expand to view content
Icon
Name
Rarity
Description
Outfit
Collection
Price
Lucky Cap (Dark Red)

Common

It's just a cap. Pretty sure luck has nothin' to do with it.
Aces and Eights
Ace Essentials

50

900

Lucky Cap (Slate Gray)

Common

It's just a cap. Pretty sure luck has nothin' to do with it.
Aces and Eights
Ace Essentials

50

900

Lucky Cap (Brown/Gray)

Common

It's just a cap. Pretty sure luck has nothin' to do with it.
Aces and Eights
Ace Essentials

50

900

Lucky Cap (Rust)

Common

It's just a cap. Pretty sure luck has nothin' to do with it.
Aces and Eights
Ace Essentials

50

900

Lucky Cap (Dark Green)

Common

It's just a cap. Pretty sure luck has nothin' to do with it.
Aces and Eights
Ace Essentials

50

900

Cool Dude Shades

Uncommon

Mama says you are beautiful. Who could disagree with that?

BTW, These sunglasses can make you famous!

Hey Ladies
Man About Town

100

1800

Bouncer Beard

Uncommon

Mama says you are beautiful. Who could disagree with that?
Mover, Shaker
Man About Town

100

1800

No Messin' Around

Uncommon

Mama says you are beautiful. Who could disagree with that?
Too Sexy
Man About Town

110

Trust Me Trilby

Rare

Who doesn't believe a man with a nice haircut and fashionable hat?

Protip: Sunglasses hide the hangover.

Pink Rascal
Loveable Rouge

250

4500

Shady Trilby

Rare

Who doesn't believe a man with a nice haircut and fashionable hat?
Shady Scoundrel
Loveable Rouge

250

4500

Fancy Fraud Trilby

Rare

Who doesn't believe a man with a nice haircut and fashionable hat?

With an elegant, antique handlebar, what could possibly go wrong? #itsnotarealmustache

Classy Charlatan
Loveable Rouge

300

Officer's Crush Cap

Very Rare

A dashing pilot's hat and eyepatch for a man who flirts with danger and lives to tell the tale.
Flying Ace
War is Hell

400

7200

Rose-Tinted Glasses

Very Rare

The future's so bright, you gotta wear shades.
Rush of Spring
Spring Ensembles

400

Night Owl Sunglasses

Very Rare

Slicked back for success and ready to throw them bones! Come on lucky seven!

With these cool shades, they will never see you coming.

The Tomcat
Smoking Jacket

400

7200

Ready to Roll

Very Rare

Slicked back for success and ready to throw them bones! Come on lucky seven!
The High Roller
Smoking Jacket

400

7200

Gilded Gambler

Very Rare

Slicked back for success and ready to throw them bones! Come on lucky seven!

The pencil mustache means business!

The Golden Nugget
Smoking Jacket

400

Gelled Hairdo

Very Rare

He pulled a few strands of hair into a neat swirl and applied a dollop of gel to secure it in place during the journey.
Ace Vegas
Mean Streets

400

Reindeer Tracks

Very Rare

Behind the antlers was a gambler looking for a score.
Winter Wisecracks
Holiday Horror

400

Salt and Pepper Pompadour

Event

A clean staple cut, with the sides kept short, blending into a beard lineup.
Seasoned Gambler
Moonrise

400
Expand to view content
Icon
Name
Rarity
Description
Outfit
Collection
Price
Charmed Jacket and Shirt (Ash Gray/Blue-Gray)

Common

A classic jacket over a plain button-up shirt.
Aces and Eights
Ace Essentials

50

900

Charmed Jacket and Shirt (Black/Maroon)

Common

A classic jacket over a plain button-up shirt.
Aces and Eights
Ace Essentials

50

900

Charmed Jacket and Shirt (Brown/Plum)

Common

A classic jacket over a plain button-up shirt.
Aces and Eights
Ace Essentials

50

900

Charmed Jacket and Shirt (Dark Blue/Auburn)

Common

A classic jacket over a plain button-up shirt.
Aces and Eights
Ace Essentials

50

900

Charmed Jacket and Shirt (Maroon/Blue-Gray)

Common

A classic jacket over a plain button-up shirt.
Aces and Eights
Ace Essentials

50

900

Fistful O' Pineapples

Uncommon

A light and comfortable shirt that allows you to express yourself perfectly.
Hey Ladies
Man About Town

100

1800

Pink and Proud

Uncommon

A light and comfortable shirt that allows you to express yourself perfectly.

Nothin' unmanly about a lad in pink.

Mover, Shaker
Man About Town

100

1800

Catwalk Shirt

Uncommon

A light and comfortable shirt that allows you to express yourself perfectly.
Too Sexy
Man About Town

110

No Sweat Sweater

Rare

What kind of no-good con-man doesn't have a lovely colored sweater in their costume bag? Not this one!
Pink Rascal
Loveable Rouge

250

4500

Shady Mauve Sweater

Rare

What kind of no-good con-man doesn't have a lovely colored sweater in their costume bag? Not this one!
Shady Scoundrel
Loveable Rouge

250

4500

Fake Flamingo Sweater

Rare

What kind of no-good con-man doesn't have a lovely colored sweater in their costume bag? Not this one!

Pink flamingos, for the 'filthiest man alive'.

Classy Charlatan
Loveable Rouge

300

Four Pips

Rare

It's time to show your winning hand.
No Outfit
Ugly Sweaters

250

4500

Pin-Up Flight Jacket

Very Rare

Take to the skies with a timelessly classy leather jacket and a handful of bullets.
Flying Ace
War is Hell

400

7200

Daisy Vest

Very Rare

Bright colors and a daisy pattern make you stand out from the pack.
Rush of Spring
Spring Ensembles

400

Lover Boy Jacket

Very Rare

For the classy gentleman, his cigar, and his stack of betting chips.

This one is for the ladies.

The Tomcat
Smoking Jacket

400

7200

Money Maker Jacket

Very Rare

For the classy gentleman, his cigar, and his stack of betting chips.
The High Roller
Smoking Jacket

400

7200

Gold & Gravy Jacket

Very Rare

For the classy gentleman, his cigar, and his stack of betting chips.
The Golden Nugget
Smoking Jacket

400

Coarse Shag

Very Rare

Dressed in his lucky shirt, he rented a decadent vintage convertible. Then he hit the road.
Ace Vegas
Mean Streets

400

Ace Viscontree

Very Rare

A holiday jacket adorned with ornaments and garland. The perfect mix of classiness and gaudiness for winter on the Vegas strip.
Winter Wisecracks
Holiday Horror

400

Red & Gold Tangzhuang

Event

A semi-traditional, stylish jacket for Ace to join in the most exclusive tables.
Seasoned Gambler
Moonrise

400
Expand to view content
Icon
Name
Rarity
Description
Outfit
Collection
Price
Fortuitous Jeans (Camel)

Common

Sure... they might be a bit too worn and dirty for fancy casinos, but they bring good fortune!
Aces and Eights
Ace Essentials

50

900

Fortuitous Jeans (Light Blue)

Common

Sure... they might be a bit too worn and dirty for fancy casinos, but they bring good fortune!
Aces and Eights
Ace Essentials

50

900

Fortuitous Jeans (Dark Brown)

Common

Sure... they might be a bit too worn and dirty for fancy casinos, but they bring good fortune!
Aces and Eights
Ace Essentials

50

900

Fortuitous Jeans (Charcoal)

Common

Sure... they might be a bit too worn and dirty for fancy casinos, but they bring good fortune!
Aces and Eights
Ace Essentials

50

900

Fortuitous Jeans (Gray)

Common

Sure... they might be a bit too worn and dirty for fancy casinos, but they bring good fortune!
Aces and Eights
Ace Essentials

50

900

Lady-Killer Loafers

Uncommon

Shorts and loafers, the perfect combination for casual comfort.
Hey Ladies
Man About Town

100

1800

Light and Loafy

Uncommon

Shorts and loafers, the perfect combination for casual comfort.
Mover, Shaker
Man About Town

100

1800

Midnight Loafers

Uncommon

Shorts and loafers, the perfect combination for casual comfort.
Too Sexy
Man About Town

110

Sure Thing Slacks

Rare

Simple, comfortable, and non-threatening. These slacks are the business.
Pink Rascal
Loveable Rouge

250

4500

Shady Magenta Slacks

Rare

Simple, comfortable, and non-threatening. These slacks are the business.
Shady Scoundrel
Loveable Rouge

250

4500

Phony Ninja Slacks

Rare

Simple, comfortable, and non-threatening. These slacks are the business.
Classy Charlatan
Loveable Rouge

300

Fighter Pilot Trousers

Very Rare

Comfortable and cool flight pants that look great whether on the ground or at 25,000 feet.
Flying Ace
War is Hell

400

7200

Muddy Slacks

Very Rare

Even the best gambler has to make some quick exits, but the lucky rabbit's foot will surely keep you safe? Didn't work for the rabbit though.
Rush of Spring
Spring Ensemble

400

Smooth Operator Slippers

Very Rare

It's all about comfort and ease of access. Slip in, slip out.
The Tomcat
Smoking Jacket

400

7200

Hit the Jackpot Slippers

Very Rare

It's all about comfort and ease of access. Slip in, slip out.
The High Roller
Smoking Jacket

400

7200

Sunglow Satin Slippers

Very Rare

It's all about comfort and ease of access. Slip in, slip out.

With custom embroidered initials. Shiny!

The Golden Nugget
Smoking Jacket

400

Midnight Sequin Pants

Very Rare

Wearing his best sequin pants, he reminisced about Vegas' golden age, when the city was still a shining beacon of prestige.
Ace Vegas
Mean Streets

400

Pine Legs

Very Rare

Festive pants, somewhat overshadowed by the creative bowed shoes.
Winter Wisecracks
Holiday Horror

400

Dark Floral Trousers

Event

Silk trousers with a dark red, floral pattern. Comes with a pair of dressy, slip-on leather shoes with a gold pointed toe. Brings a modern refinement to this sleek classic.
Seasoned Gambler
Moonrise

400
Feng Min
Expand to view content
Icon
Name
Rarity
Description
Outfit
Collection
Price
Shining Lion

Common

A breathable, athletic attire for your nightly e-sports training sessions.
Tournament Polo (Teal/Magenta)

Tournament Shorts (Black/Magenta)

Feng Essentials

90

1800

Shining Lion

Common

A breathable, athletic attire for your nightly e-sports training sessions.
Tournament Polo (Red/Teal)

Tournament Shorts (Black/Teal)

Feng Essentials

90

1800

Shining Lion

Common

A breathable, athletic attire for your nightly e-sports training sessions.
Tournament Polo (Purple/Black)

Tournament Shorts (Dark Purple/Black)

Feng Essentials

90

1800

Shining Lion

Common

A breathable, athletic attire for your nightly e-sports training sessions.
Tournament Polo (Lime Green)

Tournament Shorts (Black/Yellow)

Feng Essentials

90

1800

Shining Lion

Common

A breathable, athletic attire for your nightly e-sports training sessions.
Tournament Polo (Brown)

Tournament Shorts (Black/Orange)

Feng Essentials

90

1800

Enter the Matrix

Uncommon

Captain's Log: Acquired an awesome outfit. The plan for world domination is falling into place...

There is no spoon.

Trinity Bang + Pony

Hexagon Sci-Fi Coat

Cypher Skinny Jeans

Sci-Fi Fan

270

5400

Outer Orbit

Uncommon

Captain's Log: Acquired an awesome outfit. The plan for world domination is falling into place...
Engineer Bang + Pony

First Mate Sci-Fi Coat

Space Explorer Skinny Jeans

Sci-Fi Fan

270

5400

Extraterrestrial

Uncommon

Captain's Log: Acquired an awesome outfit. The plan for world domination is falling into place...
Supernova Bang + Pony

Alien Sci-Fi Coat

Invader Skinny Jeans

Sci-Fi Fan

324

Good Game, Easy

Rare

Show off your love for geek culture in style. The geek takeover has begun! #gg #ez
Toxic Brown

Toxic GG Top & Jacket

Raw Denim Shorts & Boots

Geek Chic

675

13500

Coffee Luva

Rare

Show off your love for geek culture in style. The geek takeover has begun!

But first, coffee!

Long Black

Caffeine Geek Top & Jacket

Washed Denim Shorts & Boots

Geek Chic

675

13500

Electric Dreams

Rare

Show off your love for geek culture in style. The geek takeover has begun!
Electro Highlights

Electric Bouquet Top & Jacket

Paradise Shorts & Boots

Geek Chic

810

Happy-Go-Lucky

Very Rare

Cooling off from an exhausting e-sport tournament, she took a well-deserved break by streaming her favorite game.
Bunny Ears

Fuzzy Hoodie

Edgy Leggings

Spring Ensembles

1080

Eggs-Travaganza

Very Rare

Cooling off from an exhausting e-sport tournament, she took a well-deserved break by streaming her favorite game.
Bunny Ears

Soft Hoodie

Comfy Leggings

Spring Ensembles

1080

21600

Rare Loot Collector

Very Rare

Aggro the mobs with an outfit that's sure to be noticed.
Fantasy Ribbon

Ruffled Top

Stripes and Spots

Lan Party

1080

Amphibian

Very Rare

A throw-back to the slamming fashion of the 80s. Turn back time and blow everyone away with these retro styles!
Tree Frog Ponytails

Skink Tie-Front Top

Axolotl Kitty Skirt

I Heart the 80s

1080

21600

Campus Punk

Very Rare

A throw-back to the slamming fashion of the 80s. Turn back time and blow everyone away with these retro styles!
Prerequisite Purple Ponytails

Freshman Tie-Front Top

Applied Science Skirt

I Heart the 80s

1080

21600

Tokyo Subway

Very Rare

A throw-back to the slamming fashion of the 80s. Turn back time and blow everyone away with these retro styles!

From Akihabara to Harajuko, keep some surgical masks handy.

Masuku Bijin

Light Denim Tie-Front Top

Cherry Blossom Skirt

I Heart the 80s

1080

The Main Event

Very Rare

The Nubula Arc Championship have arrived. Plug in, boot up, and show them what you can do.
Cyber Gamer

Laser Bear Jersey

Laser Bear Pants

Familiar Foes

1080

21600

Goddess of Warfare

Very Rare

From the fog, an outfit inspired by myths of Athena emerge, bestowed to one of gaming's greatest legends.
Lavish Protectress

Warrior Goddess

Chained Breeches

Greek Legends

1080

Demon Slayer

Very Rare

Feng dressed the part of slayer as she celebrated her Lazer Bears' victory over the reigning champion, Shock Demons.

Design inspired by Agus Alvi.

Conquering Herione

Mad World

Fortune Crop Pants

Community

21600

Spring Festival

Event

Feng partakes in the festive parade that courses down narrow streets and lights up the sky.
Red Peony

Open-Back Top

High Slit Qípáo Skirt

Moonrise

1080

Lady Defiant

Event

The extravagant dress reminded Feng of a heroine from a game she used to play. In the Entity's realm, she'd take any reminder of home that she could get.
Rose Fascinator

Grand Bow Corset

Ruffled Fishtail

Hallowed Curse

1080

21600
Expand to view content
Icon
Name
Rarity
Description
Outfit
Collection
Price
Trinity Bang + Pony

Uncommon

An elegant fringe-cut with ponytail. Perfect for creeping and peeping!
Enter the Matrix
Sci-Fi Fan

100

1800

Engineer Bang + Pony

Uncommon

An elegant fringe-cut with ponytail. Perfect for creeping and peeping!
Outer Orbit
Sci-Fi Fan

100

1800

Supernova Bang + Pony

Uncommon

An elegant fringe-cut with ponytail. Perfect for creeping and peeping!
Extraterrestrial
Sci-Fi Fan

120

Toxic Brown

Rare

Shoulder length straight cut with bangs. Simple, but classic.
Good Game, Easy
Geek Chic

250

4500

Long Black

Rare

Shoulder length straight cut with bangs. Simple, but classic.
Coffee Luva
Geek Chic

250

4500

Electro Highlights

Rare

Shoulder length straight cut with bangs. Simple, but classic.
Electric Dreams
Geek Chic

300

Bunny Ears

Very Rare

To make her stream more festive, she embraced the spirit of the season and wore cute bunny ears.
Happy-Go-Lucky
Spring Ensembles

400

Bunny Ears

Very Rare

To make her stream more festive, she embraced the spirit of the season and wore cute bunny ears.
Eggs-Travaganza
Spring Ensembles

400

7200

Fantasy Ribbon

Very Rare

In some realms, it's said to prevent status effects. In this one, it just looks cute.
Rare Loot Collector
Lan Party

400

Tree Frog Ponytails

Very Rare

Colorful hair. Colorful makeup. Stand out from the crowd!
Amphibian
I Heart the 80s

400

7200

Prerequisite Purple Ponytails

Very Rare

Colorful hair. Colorful makeup. Stand out from the crowd!
Campus Punk
I Heart the 80s

400

7200

Masuku Bijin

Very Rare

Colorful hair. Colorful makeup. Stand out from the crowd!

Trapper-branded surgical mask. TM.

Tokyo Subway
I Heart the 80s

400

Cyber Gamer

Very Rare

Top of the line Ec.ko Shock headphones for premium gaming immersion, paired with anti-reflective 180-lens gaming glasses to reduce eyestrain. Standard issue hardware for members of the Laser Bears' Nebula Arc squad.
The Main Event
Familiar Foes

400

7200

Lavish Protectress

Very Rare

A hairstyle suited for a goddess, with the opulent jewelry to back it up.
Goddess of Warfare
Greek Legends

400

Conquering Herione

Very Rare

Straight, no-nonsense hair, with the symbol of Feng's defeated rivals acting as a war trophy upon her head.
Demon Slayer
Community

7200

Red Peony

Event

A side bun decorated with a red peony to attract good fortune.
Spring Festival
Moonrise

400

Rose Fascinator

Event

A small feathered headpiece, further adorned with a rose and placed upon colored hair.
Lady Defiant
Hallowed Curse

400

7200
Expand to view content
Icon
Name
Rarity
Description
Outfit
Collection
Price
Tournament Polo (Teal/Magenta)

Common

An unofficial, bootleg Lazer Bears tournament polo shirt.
Shining Lion
Feng Essentials

50

900

Tournament Polo (Red/Teal)

Common

An unofficial, bootleg Lazer Bears tournament polo shirt.
Shining Lion
Feng Essentials

50

900

Tournament Polo (Purple/Black)

Common

An unofficial, bootleg Lazer Bears tournament polo shirt.
Shining Lion
Feng Essentials

50

900

Tournament Polo (Lime Green)

Common

An unofficial, bootleg Lazer Bears tournament polo shirt.
Shining Lion
Feng Essentials

50

900

Tournament Polo (Brown)

Common

An unofficial, bootleg Lazer Bears tournament polo shirt.
Shining Lion
Feng Essentials

50

900

Hexagon Sci-Fi Coat

Uncommon

The sci-fi coat is warm and loose-fitting. Super stylish and cutting edge. Perfect for gaming events and cosplay.
Enter the Matrix
Sci-Fi Fan

100

1800

First Mate Sci-Fi Coat

Uncommon

The sci-fi coat is warm and loose-fitting. Super stylish and cutting edge. Perfect for gaming events and cosplay.
Outer Orbit
Sci-Fi Fan

100

1800

Alien Sci-Fi Coat

Uncommon

The sci-fi coat is warm and loose-fitting. Super stylish and cutting edge. Perfect for gaming events and cosplay.

Game over, man! Game over!

Extraterrestrial
Sci-Fi Fan

120

Toxic GG Top & Jacket

Rare

Casual top and jacket combo, perfect for stalking the streets or chilling out in internet cafes.

Good game, nerd!

Good Game, Easy
Geek Chic

250

4500

Caffeine Geek Top & Jacket

Rare

Casual top and jacket combo, perfect for stalking the streets or chilling out in internet cafes.

Let's Coffee!

Coffee Luva
Geek Chic

250

4500

Electric Bouquet Top & Jacket

Rare

Casual top and jacket combo, perfect for stalking the streets or chilling out in internet cafes.
Electric Dreams
Geek Chic

300

Gamer Cred

Rare

Just because it's the Holidays, that's no excuse to neglect gaming. There are people to beat and XP to gain!
No Outfit
Ugly Sweaters

250

4500

Fuzzy Hoodie

Very Rare

Nothing could match the comfort and ease of that hoodie. It was ideal to stay warm during the cold days of Spring.
Happy-Go-Lucky
Spring Ensembles

400

Soft Hoodie

Very Rare

Nothing could match the comfort and ease of that hoodie. It was ideal to stay warm during the cold days of Spring.
Eggs-Travaganza
Spring Ensembles

400

7200

Ruffled Top

Very Rare

The ruffled front is matched with a lace-up back and high waist, tied with a bow.
Rare Loot Collector
Lan Party

400

Skink Tie-Front Top

Very Rare

This light, tie-front vest and t-shirt combination comes with exactly the required amount of flair.
Amphibian
I Heart the 80s

400

7200

Freshman Tie-Front Top

Very Rare

This light, tie-front vest and t-shirt combination comes with exactly the required amount of flair.
Campus Punk
I Heart the 80s

400

7200

Light Denim Tie-Front Top

Very Rare

This light, tie-front vest and t-shirt combination comes with exactly the required amount of flair.
Tokyo Subway
I Heart the 80s

400

Laser Bear Jersey

Very Rare

A special Laser Bear uniform worn exclusively during the 2012 Nebula Arc Championships. A fine piece of gaming history.
The Main Event
Familiar Foes

400

7200

Chained Breeches

Very Rare

A blouse that conveys elegance through simplicity, adorned with a gold-plated buckle, armband, and bracelet.
Goddess of Warfare
Greek Legends

400

Mad World

Very Rare

Loud and eye-catching, the Shining Lion's jacket worked well with the charmingly demonic backpack slung upon her.
Demon Slayer
Community

7200

Open-Back Top

Event

Squeeze into this elegant, traditional silk top for a night of fireworks.
Spring Festival
Moonrise

400

Grand Bow Corset

Event

A striking corset, strapped tight and highlighted by a large bow.
Lady Defiant
Hallowed Curse

400

7200
Expand to view content
Icon
Name
Rarity
Description
Outfit
Collection
Price
Tournament Shorts (Black/Magenta)

Common

Short shorts for work or play.
Shining Lion
Feng Essentials

50

900

Tournament Shorts (Black/Teal)

Common

Short shorts for work or play.
Shining Lion
Feng Essentials

50

900

Tournament Shorts (Purple/Black)

Common

Short shorts for work or play.
Shining Lion
Feng Essentials

50

900

Tournament Shorts (Black/Yellow)

Common

Short shorts for work or play.
Shining Lion
Feng Essentials

50

900

Tournament Shorts (Black/Orange)

Common

Short shorts for work or play.
Shining Lion
Feng Essentials

50

900

Cypher Skinny Jeans

Uncommon

Sleek and stylish skinny jeans. A great accompaniment to most outfits.
Enter the Matrix
Sci-Fi Fan

100

1800

Space Explorer Skinny Jeans

Uncommon

Sleek and stylish skinny jeans. A great accompaniment to most outfits.
Outer Orbit
Sci-Fi Fan

100

1800

Invader Skinny Jeans

Uncommon

Sleek and stylish skinny jeans. A great accompaniment to most outfits.
Extraterrestrial
Sci-Fi Fan

120

Raw Denim Shorts & Boots

Rare

Chic short shorts and leather work boots, great for kicking ass and taking names!

MLG plays.

Good Game, Easy
Geek Chic

250

4500

Washed Denim Shorts & Boots

Rare

Chic short shorts and leather work boots, great for kicking ass and taking names!

Let's Coffee!

Coffee Luva
Geek Chic

250

4500

Paradise Shorts & Boots

Rare

Chic short shorts and leather work boots, great for kicking ass and taking names!

Also perfect for tropical beaches.

Electric Dreams
Geek Chic

300

Edgy Leggings

Very Rare

There was something liberating about not wearing pants for hours. The best part of working from home--leggings!
Happy-Go-Lucky
Spring Ensembles

400

Comfy Leggings

Very Rare

There was something liberating about not wearing pants for hours. The best part of working from home--leggings!
Eggs-Travaganza
Spring Ensembles

400

7200

Stripes and Spots

Very Rare

Pair a short skirt, pleated and striped, with polka dot pantyhose.
Rare Loot Collector
Lan Party

400

Axolotl Kitty Skirt

Very Rare

Pleated Skirt and knee high socks to take you back to your high school days.
Amphibian
I Heart the 80s

400

7200

Applied Science Skirt

Very Rare

Pleated Skirt and knee high socks to take you back to your high school days.
Campus Punk
I Heart the 80s

400

7200

Cherry Blossom Skirt

Very Rare

Pleated Skirt and knee high socks to take you back to your high school days.
Tokyo Subway
I Heart the 80s

400

Laser Bear Pants

Very Rare

With the classic Laser Bear logo sprawled on the leg, there's no question which team you're representing.
The Main Event
Familiar Foes

400

7200

Warrior Goddess

Very Rare

Soft leather pants with a chained belt that plunges from the waist. Intricate sandals complete the look.
Goddess of Warfare
Greek Legends

400

Fortune Crop Pants

Very Rare

A traditional style mixed with urban fashion-a look that favors the bold!
Demon Slayer
Community

7200

High Slit Qípáo Skirt

Event

A red, figure-hugging skirt with a thigh-high slit. Comes with a pair of low-heeled, suede ballet flats featuring an ankle strap and lace-up design.
Spring Festival
Moonrise

400

Ruffled Fishtail

Event

A fanciful dress layered in ruffles and spattered with serum from overripe pustulas.
Lady Defiant
Hallowed Curse

400

7200
David King
Expand to view content
Icon
Name
Rarity
Description
Outfit
Collection
Price
Mancunian Fighter

Common

A rugged work attire for a tough troublemaker.
Blouson Jacket (Navy Blue)

Worn Keks (Blood Red)

David Essentials

90

1800

Mancunian Fighter

Common

A rugged work attire for a tough troublemaker.
Blouson Jacket (Dark Brown)

Worn Keks (Charcoal)

David Essentials

90

1800

Mancunian Fighter

Common

A rugged work attire for a tough troublemaker.
Blouson Jacket (Charcoal)

Worn Keks (Dark Brown)

David Essentials

90

1800

Mancunian Fighter

Common

A rugged work attire for a tough troublemaker.
Blouson Jacket (Brown)

Worn Keks (Dark Olive Green)

David Essentials

90

1800

Mancunian Fighter

Common

A rugged work attire for a tough troublemaker.
Blouson Jacket (Blood Red)

Worn Keks (Navy Blue)

David Essentials

90

1800

Security

Uncommon

Like a real life superhero, it's time to don the uniform and stick up for the small guy.

And make sure to pay for your goods on your way out.

Surveillance Cap

Supervisor Button-Up

Supervisor Cargo Pants

Sentinel

270

5400

Protector

Uncommon

Like a real life superhero, it's time to don the uniform and stick up for the small guy.
Night Armor Cap

Night Armor Button-Up

Night Armor Cargo Pants

Sentinel

270

5400

Supporter

Uncommon

Like a real life superhero, it's time to don the uniform and stick up for the small guy.
Rose Cap

Rose Button-Up

Camo Cargo Pants

Sentinel

324

Bruiser

Rare

Alright then! You wanna get loud? Get loud! Get a pint and get rowdy, boy! Oiiiioiiiiii!
Ruffian Mohawk

Slugger Training Jacket

Roughneck Track Pants

Rowdy Boy

675

13500

Bouncer

Rare

Alright then! You wanna get loud? Get loud! Get a pint and get rowdy, boy! Oiiiioiiiiii!
Get Outta Here Mohawk

No ID Training Jacket

Kicked-Out Track Pants

Rowdy Boy

675

13500

Bully

Rare

Alright then! You wanna get loud? Get loud! Get a pint and get rowdy, boy! Oiiiioiiiiii!
Hooligan Mohawk

Rose Training Jacket

Troublemaker Track Pants

Rowdy Boy

945

Pugilist

Rare

Ready to go round for round, guv? Strap up yer wrists and tie them laces tight! It's time to throw down!

On a long enough timeline, the survival rate for everyone drops to zero.

Mean Mug

Bloodied Gym Top

Bloodied Sweatpants

Fight Club

675

13500

Busted Up

Rare

Ready to go round for round, guv? Strap up yer wrists and tie them laces tight! It's time to throw down!
Busted Mug

Busted Top

Busted Sweatpants

Fight Club

675

13500

Riot Guuuy

Very Rare

Don't let the Grrrls have all the fun.
Brown Trilby

Personalized Jacket

Tight Punk Pants

Wicked Wares

1080

Mechanic

Very Rare

Whether it's a flying machine, locomotive or a simple water pump, David will keep it in working order.
Matinee Idol

Open-Necked Shirt

Hardwearing Work Pants

The Threadbare Thirties

1080

21600

Enforcer

Very Rare

A trip to Mexico to find and roughen up a police informant.
Culture Shock

Mexican Threads

Embroidered Blue

November Days

1080

21600

Debt Collector

Very Rare

He broke the orbital bone of the first man on his list. Seemed a bit drastic to collect £500. Then again, restraint was not something David was accustomed to.
Slicked Hair & Beard

Dress Shirt & Suspenders

Dress Pants & Loafers

Mean Streets

1080

Hard Man

Very Rare

Ready to go round for round, guv? Strap up yer wrists and tie them laces tight! It's time to throw down!
Hard Mug

Hard Headlights

Hard Sweatpants

Fight Club

1080

Champion of Olympus

Very Rare

Attire that shows off the confidence of its Herculean wearer.
Golden Mane

Lion's Share

Mighty Pouncers

Greek Legends

1080

21600
Expand to view content
Icon
Name
Rarity
Description
Outfit
Collection
Price
Surveillance Cap

Uncommon

A fitted cap to show that you mean business.
Security
Sentinel

100

1800

Night Armor Cap

Uncommon

A fitted cap to show that you mean business.
Protector
Sentinel

100

1800

Rose Cap

Uncommon

A fitted cap to show that you mean business.

Alright. We're doing it!

Supporter
Sentinel

120

Ruffian Mohawk

Rare

You got a problem, mate? You wanna go? With a mohawk like this, you will never have a problem again.
Bruiser
Rowdy Boy

250

4500

Get Outta Here Mohawk

Rare

You got a problem, mate? You wanna go? With a mohawk like this, you will never have a problem again.
Bouncer
Rowdy Boy

250

4500

Hooligan Mohawk

Rare

You got a problem, mate? You wanna go? With a mohawk like this, you will never have a problem again.

A green mohawk, no less. This guy is trouble!

Bully
Rowdy Boy

350

Mean Mug

Rare

Aye, face's bit messed up, but it's all good. Makes for a more intimidating appearance.
Pugilist
Fight Club

250

4500

Busted Mug

Rare

Aye, face's bit messed up, but it's all good. Makes for a more intimidating appearance.

The bandage is holding in the important stuff.

Busted Up
Fight Club

250

4500

Brown Trilby

Very Rare

Aged with beer and smoke, if only this hat could tell the tales of nights it has seen.
Riot Guuuy
Wicked Wares

400

Matinee Idol

Very Rare

A perfectly-coiffed hair and pencil thin mustache. Even the grime lends you a devilish air.
Mechanic
The Threadbare Thirties

400

7200

Culture Shock

Very Rare

Definitely not Halloween! Trying to mix in.
Enforcer
November Days

400

7200

Slicked Hair & Beard

Very Rare

He wasn't going to look like some two-bit thug skulking for a fight - nah, he was a professional.
Debt Collector
Mean Streets

400

Hard Mug

Very Rare

Aye, face's bit messed up, but it's all good. Makes for a more intimidating appearance.
Hard Man
Fight Club

400

Golden Mane

Very Rare

A ferocious growth of wild blonde locks, framing a courageous face.
Champion of Olympus
Greek Legends

400

7200
Expand to view content
Icon
Name
Rarity
Description
Outfit
Collection
Price
Blouson Jacket (Navy Blue)

Common

Make this your go-to jacket for practically any situation.
Mancunian Fighter
David Essentials

50

900

Blouson Jacket (Dark Brown)

Common

Make this your go-to jacket for practically any situation.
Mancunian Fighter
David Essentials

50

900

Blouson Jacket (Charcoal)

Common

Make this your go-to jacket for practically any situation.
Mancunian Fighter
David Essentials

50

900

Blouson Jacket (Brown)

Common

Make this your go-to jacket for practically any situation.
Mancunian Fighter
David Essentials

50

900

Blouson Jacket (Blood Red)

Common

Make this your go-to jacket for practically any situation.
Mancunian Fighter
David Essentials

50

900

Supervisor Button-Up

Uncommon

No uniform is complete without a fitted, button-up shirt. A bit of an iron wouldn't go astray.
Security
Sentinel

100

1800

Night Armor Button-Up

Uncommon

No uniform is complete without a fitted, button-up shirt. A bit of an iron wouldn't go astray.
Protector
Sentinel

100

1800

Rose Button-Up

Uncommon

No uniform is complete without a fitted, button-up shirt. A bit of an iron wouldn't go astray.
Supporter
Sentinel

120

Slugger Training Jacket

Rare

A fitted training jacket suited for keeping you warm in outdoor conditions.
Bruiser
Rowdy Boy

250

4500

No ID Training Jacket

Rare

A fitted training jacket suited for keeping you warm in outdoor conditions.
Bouncer
Rowdy Boy

250

4500

Rose Training Jacket

Rare

A fitted training jacket suited for keeping you warm in outdoor conditions.
Bully
Rowdy Boy

350

Bloodied Gym Top

Rare

Pumped up from hitting the gym. Knuckles wrapped and ready to rumble. Bring it on.
Pugilist
Fight Club

250

4500

Busted Top

Rare

Pumped up from hitting the gym. Knuckles wrapped and ready to rumble. Bring it on.
Busted Up
Fight Club

250

4500

Rugby Shirt

Rare

The open weave helps soak up any sweat, or blood, that might appear during a scrum.
No Outfit
Ugly Sweaters

250

4500

Personalized Jacket

Very Rare

Nothing says 'revolution' like long nights spent hand-stitching patches onto a jacket.
Riot Guuuy
Wicked Wares

400

Open-Necked Shirt

Very Rare

The neck is open, to keep you cool, and the sleeves are rolled up, so as to not get caught in whirling gears.
Mechanic
The Threadbare Thirties

400

7200

Mexican Threads

Very Rare

Enjoying the festivities! A red rose to celebrate the life of a favorite aunt.
Enforcer
November Days

400

7200

Dress Shirt & Suspenders

Very Rare

He looked sleek and threatening, as if he could appear from the dark of any alley. Focused. Ruthless. That's what people respected.
Debt Collector
Mean Streets

400

Hard Headlights

Very Rare

Pumped up from hitting the gym. Knuckles wrapped and ready to rumble. Bring it on.

...is it cold in here?

Hard Man
Fight Club

400

Lion's Share

Very Rare

A light shirt, embroidered with gold patterns and sporting the emblem of the lion on the back.
Champion of Olympus
Greek Legends

400

7200
Expand to view content
Icon
Name
Rarity
Description
Outfit
Collection
Price
Worn Keks (Blood Red)

Common

Used denim that passed the test of time.
Mancunian Fighter
David Essentials

50

900

Worn Keks (Charcoal)

Common

Used denim that passed the test of time.
Mancunian Fighter
David Essentials

50

900

Worn Keks (Dark Brown)

Common

Used denim that passed the test of time.
Mancunian Fighter
David Essentials

50

900

Worn Keks (Dark Olive Green)

Common

Used denim that passed the test of time.
Mancunian Fighter
David Essentials

50

900

Worn Keks (Navy Blue)

Common

Used denim that passed the test of time.
Mancunian Fighter
David Essentials

50

900

Supervisor Cargo Pants

Uncommon

Loose cargo pants and hard leather combat boots, for utility and comfort.
Security
Sentinel

100

1800

Night Armor Cargo Pants

Uncommon

Loose cargo pants and hard leather combat boots, for utility and comfort.
Protector
Sentinel

100

1800

Camo Cargo Pants

Uncommon

Loose cargo pants and hard leather combat boots, for utility and comfort.
Supporter
Sentinel

120

Roughneck Track Pants

Rare

Comfortable, loose fitting track pants. Great for running, vaulting, and skipping rope.
Bruiser
Rowdy Boy

250

4500

Kicked-Out Track Pants

Rare

Comfortable, loose fitting track pants. Great for running, vaulting, and skipping rope.
Bouncer
Rowdy Boy

250

4500

Troublemaker Track Pants

Rare

Comfortable, loose fitting track pants. Great for running, vaulting, and skipping rope.
Bully
Rowdy Boy

350

Bloodied Sweatpants

Rare

Comfortable sweats for use in boxing ring. Allows for high mobility. Wait, is that blood?
Pugilist
Fight Club

250

4500

Busted Sweatpants

Rare

Comfortable sweats for use in boxing ring. Allows for high mobility. Wait, is that blood?
Busted Up
Fight Club

250

4500

Tight Punk Pants

Very Rare

Cut tight around the legs, to give freedom to pogo, skate or give someone a good shoeing.
Riot Guuuy
Wicked Wares

400

Hardwearing Work Pants

Very Rare

Tough pants, accesorized with a tool belt, so David always has what he needs, when he needs it.
Mechanic
The Threadbare Thirties

400

7200

Embroidered Blue

Very Rare

Hard narrow shoes to stomp a rat.
Enforcer
November Days

400

7200

Dress Pants & Loafers

Very Rare

Somehow he didn't think his mom and dad would be proud of his new job, but he dressed the part all the same.
Debt Collector
Mean Streets

400

Hard Sweatpants

Very Rare

Comfortable sweats for use in boxing ring. Allows for high mobility. Wait, is that blood?
Hard Man
Fight Club

400

Mighty Pouncers

Very Rare

Greek-inspired patterns carved into Bermuda shorts, capped off with sneakers for a jungle king.
Champion of Olympus
Greek Legends

400

7200
Detective Tapp
Expand to view content
Icon
Name
Rarity
Description
Contents
Collection
Price
Undercover Cop

Very Rare

Detective Tapp has had a long and varied career, including time undercover.
Peaked Police Cap

"This is a Raid!"

Walking the Beat

Career Cop

1080

Beat Cop

Very Rare

Before he was Detective Tapp, Tapp walked the beat, like most other cops.
Blending In

Hardwearing Police Jacket

Dirty Slacks

Career Cop

1080

Crisis Ready

Very Rare

Learning advanced tactics and improving crisis management skills at a police retreat. Being prepared requires hours of training and practice.
Freshly Cut

Academy Dress

Cargo Style

True Swine

1080
Expand to view content
Icon
Name
Rarity
Description
Outfit
Collection
Price
Blending In

Very Rare

A more casual cut, to help Tapp fit in with the low-lifes he's investigating.
Undercover Cop
Career Cop

400

Peaked Police Cap

Very Rare

A traditional five-pointed cap, paired with dark glasses. If the suspect can't see Tapp's eyes, they can't see him observing them.
Beat Cop
Career Cop

400

Freshly Cut

Very Rare

Nothing to grab in combat scenarios. One thing less to worry about!
Crisis Ready
True Swine

400
Expand to view content
Icon
Name
Rarity
Description
Outfit
Collection
Price
Wary Greetings

Rare

There was something suspicious nagging him. He couldn't focus on anything else, not even taking a well-deserved break during the holidays; he had to investigate the matter further.
No Outfit
Ugly Sweaters

250

"This is a Raid!"

Very Rare

Tapp's scuffed jacket is paired with a bulletproof vest: essential for the raid that cracks the case.
Undercover Cop
Career Cop

400

Hardwearing Police Jacket

Very Rare

A jacket designed to keep the wearer comfortable in all weathers. The radio is mysteriously inoperable.
Beat Cop
Career Cop

400

Academy Dress

Very Rare

A comfortable jacket to spend free time or chase down pigs in the slaughter bin.
Crisis Ready
True Swine

400
Expand to view content
Icon
Name
Rarity
Description
Outfit
Collection
Price
Dirty Slacks

Very Rare

Clean pants are a dead giveaway when undercover. The artful application of grime goes a long way in selling the role.
Undercover Cop
Career Cop

400

Walking the Beat

Very Rare

Comfortable boots are the main wish of most cops. They keep the feet warm, dry and protected over many miles a day.
Beat Cop
Career Cop

400

Cargo Style

Very Rare

Non-regulation cargo pants once worn by police officers protesting against unfair working conditions and wage cuts.
Crisis Ready
True Swine

400
Kate Denson
Expand to view content
Icon
Name
Rarity
Description
Contents
Collection
Price
Struggling Songwriter

Common

A cute confidence-boost outfit for the angsty songwriter who scratches out, rewrites, and scratches out again her music sheets.
Patterned Slip Dress (Dark Yellow)

Ripped Jorts (Dark Red)

Kate Essentials

90

1800

Struggling Songwriter

Common

A cute confidence-boost outfit for the angsty songwriter who scratches out, rewrites, and scratches out again her music sheets.
Patterned Slip Dress (Purple)

Ripped Jorts (Dark Olive Green)

Kate Essentials

90

1800

Struggling Songwriter

Common

A cute confidence-boost outfit for the angsty songwriter who scratches out, rewrites, and scratches out again her music sheets.
Patterned Slip Dress (Red)

Ripped Jorts (Light Gray)

Kate Essentials

90

1800

Struggling Songwriter

Common

A cute confidence-boost outfit for the angsty songwriter who scratches out, rewrites, and scratches out again her music sheets.
Patterned Slip Dress (Orange)

Ripped Jorts (Dark Burgundy)

Kate Essentials

90

1800

Struggling Songwriter

Common

A cute confidence-boost outfit for the angsty songwriter who scratches out, rewrites, and scratches out again her music sheets.
Patterned Slip Dress (Blue)

Ripped Jorts (Charcoal)

Kate Essentials

90

1800

Dive Bar Diva

Uncommon

It's open mic night! Time to break out the guitar and woo the slightly inebriated crowd. They'll be humming along in no time!
Debut Night Curls

Beer-Soaked Slip Dress

Last Drinks Jorts

Sultry Songstress

270

5400

Stage Presence

Uncommon

It's open mic night! Time to break out the guitar and woo the slightly inebriated crowd. They'll be humming along in no time!
Dainty Curls

Headliner Slip Dress

Celebrity Jorts

Sultry Songstress

270

5400

Rodeo Rancher

Rare

A casual outfit for a fun day in the ranch. It is both practical and fashionable.
Pony Rider

Cowgirl Button-Up Shirt

Cowgirl Jeans

All Country

675

13500

Small Town Girl

Rare

A casual outfit for a fun day in the ranch. It is both practical and fashionable.

Just a small town girl, living in a lonely world.

Polite Ponytail

Moonshine Button-Up Shirt

Line Dance Jeans

All Country

810

Main Headliner

Very Rare

Hop on your old pickup and hit Route 66 for the show of a lifetime.
Morning Daze Shades

Old Glory Knotted T-Shirt

Americana Denim Pants

Summer Music Fest

1080

21600

Tokyo Headliner

Very Rare

It was Kate's first time in Japan and she was joining an iconic all-girl band for the performance of a lifetime.
Twin Ribbons

Off-the-Shoulder Top

Neko Denim Shorts

Grim Matsuri

1080

21600

Award Night Opulence

Very Rare

Decadent and luxuriant, this outfit shows you like the finer things in life, and won't settle for anything less.
Gold Cascade

Ray of Light

Slit Leather Skirt

Gold & Silk

1080

Winter Wilderness

Very Rare

Gear up for a long trek to reconnect with your childhood memories of climbing the frozen waterfalls of Yellowstone.
Caribou Beanie Hat

Sub-Zero Performance Jacket

Mountaineer Boots

Alpine Frost

1080

21600

Midnight Rider

Very Rare

It's a million yellow stripes to the next gig and you've got a bullet on two wheels to get you there. Even the roar of the engine can't drown out the song in your head.
Silver Moonlight

Sunset Hopefuls Tee & Jacket

Route 66 Leather

The Rebel Star

1080

Lady Volksfest

Very Rare

Kate never missed a chance to sing at a festival, and she was prepared for Oktoberfest to be a raucous one.
One-piece Outfit
Oktoberfest

1080

Dolly Guitar

Very Rare

Kate took the stage at a 50's revival show and played till the cows came home.
Grand Bow Updo

Stage Shaker

Hot Mic

Rockabilly

1080
Expand to view content
Icon
Name
Rarity
Description
Outfit
Collection
Price
Debut Night Curls

Uncommon

Light, curly, and full-bodied hair. Perfect for any country-singing diva!
Dive Bar Diva
Sultry Songstress

100

1800

Dainty Curls

Uncommon

Light, curly, and full-bodied hair. Perfect for any country-singing diva!
Stage Presence
Sultry Songstress

100

1800

Pony Rider

Rare

A tightly-pulled ponytail, suited to work outdoors or relaxing after hours.
Rodeo Rancher
All Country

250

4500

Polite Ponytail

Rare

A tightly-pulled ponytail, suited to work outdoors or relaxing after hours.
Small Town Girl
All Country

300

Morning Daze Shades

Very Rare

Classic shades to cover-up your growing sleep deprivation.
Main Headliner
Summer Music Fest

400

7200

Twin Ribbons

Very Rare

She brushed her neon wig before walking on stage. She had rehearsed before, but nothing could have prepared her for this crowd: dozens of fans screaming, crying, and cheering.
Tokyo Headliner
Grim Matsuri

400

7200

Gold Cascade

Very Rare

Golden waves with matching jewelry may be lavish, but black lipstick shows your artistic side.
Award Night Opulence
Gold & Silk

400

Caribou Beanie Hat

Very Rare

Soft knitted beanie with faux fur pompom, perfect to keep your head warm while facing the worst of winter.
Winter Wilderness
Alpine Frost

400

7200

Silver Moonlight

Very Rare

A bold side buzz with a silver set of shoulder-length locks.
Midnight Rider
The Rebel Star

400

Grand Bow Updo

Very Rare

A big hairstyle that pushes the hair up and adorns it with an eye-catching bow.
Dolly Guitar
Rockabilly

400
Expand to view content
Icon
Name
Rarity
Description
Outfit
Collection
Price
Patterned Slip Dress (Dark Yellow)

Common

A colorful, sleek bandana top with pattern print.
Struggling Songwriter
Kate Essentials

50

900

Patterned Slip Dress (Purple)

Common

A colorful, sleek bandana top with pattern print.
Struggling Songwriter
Kate Essentials

50

900

Patterned Slip Dress (Red)

Common

A colorful, sleek bandana top with pattern print.
Struggling Songwriter
Kate Essentials

50

900

Patterned Slip Dress (Orange)

Common

A colorful, sleek bandana top with pattern print.
Struggling Songwriter
Kate Essentials

50

900

Patterned Slip Dress (Blue)

Common

A colorful, sleek bandana top with pattern print.
Struggling Songwriter
Kate Essentials

50

900

Beer-Soaked Slip Dress

Uncommon

A sleek bandana top with pattern print. Look like a rock star, feel like a rock star!
Dive Bar Diva
Sultry Songstress

100

1800

Headliner Slip Dress

Uncommon

A sleek bandana top with pattern print. Look like a rock star, feel like a rock star!
Stage Presence
Sultry Songstress

100

1800

Camo Slip Dress

Uncommon

A sleek bandana top with pattern print. Look like a rock star, feel like a rock star!
No Outfit
Sultry Songstress

100

1800

Cowgirl Button-Up Shirt

Rare

A casual, collared button-up with rolled up sleeves. Comfortable and convenient.
Rodeo Rancher
All Country

250

4500

Moonshine Button-Up Shirt

Rare

A casual, collared button-up with rolled up sleeves. Comfortable and convenient.
Small Town Girl
All Country

300

Mustang Sally

Rare

Wild horses and music. The untamed and untamable.
No Outfit
Ugly Sweaters

250

4500

Old Glory Knotted T-Shirt

Very Rare

For a long day of hard work under a hot blazing sun.
Main Headliner
Summer Music Fest

400

7200

Off-the-Shoulder Top

Very Rare

She adjusted her dark cropped top. The girls from the band positioned themselves on stage and struck a pose.
Tokyo Headliner
Grim Matsuri

400

7200

Ray of Light

Very Rare

The top might be dazzling, but your voice will outshine it.
Award Night Opulence
Gold & Silk

400

Sub-Zero Performance Jacket

Very Rare

Thick, light waterproof jacket for walking long distances under harsh conditions.
Winter Wilderness
Alpine Frost

400

7200

Sunset Hopefuls Tee & Jacket

Very Rare

It's a great big world and Kate's going to drive it in style.
Midnight Rider
The Rebel Star

400

Stage Shaker

Very Rare

A jacket and top that puts the rock in rockabilly.
Dolly Guitar
Rockabilly

400
Expand to view content
Icon
Name
Rarity
Description
Outfit
Collection
Price
Ripped Jorts (Dark Red)

Common

Short shorts that may have, at one time, resembled full jeans.
Struggling Songwriter
Kate Essentials

50

900

Ripped Jorts (Dark Olive Green)

Common

Short shorts that may have, at one time, resembled full jeans.
Struggling Songwriter
Kate Essentials

50

900

Ripped Jorts (Light Gray)

Common

Short shorts that may have, at one time, resembled full jeans.
Struggling Songwriter
Kate Essentials

50

900

Ripped Jorts (Dark Burgundy)

Common

Short shorts that may have, at one time, resembled full jeans.
Struggling Songwriter
Kate Essentials

50

900

Ripped Jorts (Charcoal)

Common

Short shorts that may have, at one time, resembled full jeans.
Struggling Songwriter
Kate Essentials

50

900

Last Drinks Jorts

Uncommon

Maximum shortness with the storage convenience of full jeans.
Dive Bar Diva
Sultry Songstress

100

1800

Celebrity Jorts

Uncommon

Maximum shortness with the storage convenience of full jeans.
Stage Presence
Sultry Songstress

100

1800

Cowgirl Jeans

Rare

Stretchy jeans and genuine distressed leather boots with overlay design.
Rodeo Rancher
All Country

250

4500

Line Dance Jeans

Rare

Stretchy jeans and genuine distressed leather boots with overlay design.
Small Town Girl
All Country

300

Americana Denim Pants

Very Rare

The essential blue jeans for the road. Ideal to pack light.
Main Headliner
Summer Music Fest

400

7200

Neko Denim Shorts

Very Rare

The first notes blared on stage. The girls started their choreography, landing each move perfectly. Kate took a deep breath, tightened the Neko belt, and headed on stage. It was showtime.
Tokyo Headliner
Grim Matsuri

400

7200

Slit Leather Skirt

Very Rare

A classic black leather skirt, accentuated with side slits.
Award Night Opulence
Gold & Silk

400

Mountaineer Boots

Very Rare

A pair of water resistant boots with crampon attachments and great ankle height for extra support. Comes with a set of sturdy ice axes.
Winter Wilderness
Alpine Frost

400

7200

Route 66 Leather

Very Rare

Sleek, fitted leather pants and boots that offer comfort and protection.
Midnight Rider
The Rebel Star

400

Hot Mic

Very Rare

A 50's inspired skirt, paired with shoes that feature miniature microphone clip-ons.
Dolly Guitar
Rockabilly

400
Adam Francis
Expand to view content
Icon
Name
Rarity
Description
Contents
Collection
Price
Casual Authority

Common

A classic look to inspire fear and respect in your pupils.
Business Trench Coat (Khaki)

Laid-Back Trousers (Crimson)

Adam Essentials

90

1800

Casual Authority

Common

A classic look to inspire fear and respect in your pupils.
Business Trench Coat (Gray)

Laid-Back Trousers (Blue)

Adam Essentials

90

1800

Casual Authority

Common

A classic look to inspire fear and respect in your pupils.
Business Trench Coat (Brown)

Laid-Back Trousers (Gray)

Adam Essentials

90

1800

Casual Authority

Common

A classic look to inspire fear and respect in your pupils.
Business Trench Coat (Crimson)

Laid-Back Trousers (Olive)

Adam Essentials

90

1800

Casual Authority

Common

A classic look to inspire fear and respect in your pupils.
Business Trench Coat (Blue-Gray)

Laid-Back Trousers (Brown)

Adam Essentials

90

1800

Teacher Colloquium

Uncommon

Teach the world what you've learned the hard way.
Glen Plaid Trench Coat

Pure Woolen Pants

Fall Semester

180

3600

Back to School

Uncommon

Teach the world what you've learned the hard way.
Leather Trench Coat

Rugged Woolen Pants

Fall Semester

180

3600

Autumn Seminar

Uncommon

Teach the world what you've learned the hard way.
Worsted Woolen Trench Coat

Heavyweight Woolen Pants

Fall Semester

198

3960

Canadian Tuxedo

Rare

A different type of formal wear for denim enthusiast.
Mid-Length Locs & Fade

Denim Custom Jacket

Pale Ripped Jeans

Urban Streetware

743

148500

Freshman

Very Rare

Ready for a new semester of learning, making friends and, most importantly, staying alive.
Flat-Top

Preppy Paradise

Tan Slacks

Wicked Wares

1080

Inspirational Teacher

Very Rare

He launched extracurricular activities and inspired students to sign up.
Temple Fade

Comet Hoodie & Jacket

Plaid Trousers

Mean Streets

1080

Sightseer

Very Rare

Keen to explore his new home, Adam spends his weekends touring Japan.
Twisted Curls

Nostalgic Varsity Jacket

Slim Jeans and Sneakers

Disparate Arts

1080

21600

Herald of the Gods

Very Rare

Clothing found in a lost realm, donning the symbol of the god Hermes.
Bearded Deity

Travellin' Style

Sleek Blue

Greek Legends

1080

21600
Expand to view content
Icon
Name
Rarity
Description
Outfit
Collection
Price
Mid-Length Locs & Fade

Rare

Medium Length dreadlocks on top of with low skin fades on the sides. Keep your looks sharp and your survival instinct sharper.
Canadian Tuxedo
Urban Streetware

275

4950

Flat Top

Very Rare

Cut to show that you're more Will than Carlton.
Freshman
Wicked Wares

400

Temple Fade

Very Rare

Confidence and leadership were the traits he wanted his students to nurture. He sported a fresh haircut for the chemistry club's first showing.
Inspirational Teacher
Mean Streets

400

Twisted Curls

Very Rare

Twisted curls on top, with a faded undercut at the sides. Casual, but still smart enough for the weekday.
Sightseer
Disparate Arts

400

7200

Bearded Deity

Very Rare

A god-like beard that features long growth with clean-shaven cheeks.
Herald of the Gods
Greek Legends

400

7200
Expand to view content
Icon
Name
Rarity
Description
Outfit
Collection
Price
Business Trench Coat (Khaki)

Common

When it rains, it pours. Don this double breasted trench coat to look sharp no matter what life throws at you.
Casual Authority
Adam Essentials

50

900

Business Trench Coat (Gray)

Common

When it rains, it pours. Don this double breasted trench coat to look sharp no matter what life throws at you.
Casual Authority
Adam Essentials

50

900

Business Trench Coat (Brown)

Common

When it rains, it pours. Don this double breasted trench coat to look sharp no matter what life throws at you.
Casual Authority
Adam Essentials

50

900

Business Trench Coat (Crimson)

Common

When it rains, it pours. Don this double breasted trench coat to look sharp no matter what life throws at you.
Casual Authority
Adam Essentials

50

900