Arbor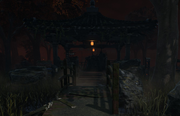 The Arbor is a Structure featured throughout the Yamaoka Estate Realm.
The following Props may spawn around the Arbor.
A Chest , often at the corner of the Arbor.
A Generator , often spawning in the middle of the Arbor.
A Totem , often spawning at a corner of the Arbor.
The Arbor is a Japanese-styled building with a traditional layout. There is a pile of debris in the middle of the structure.
There are three stairways leading to its surface, one of the four sides containing a vault.
The Arbor commonly spawns with its side parallel to a rock where a Pallet

spawns.
The Arbor typically spawns in front of a tiny bridge on the Family Residence Map.