The 2 Year Anniversary was an Event that lasted from 14 June 2018 - 9 July 2018, to celebrate the second Anniversary of Dead by Daylight

.
Overview
[
]
Unlike the 1 Year Anniversary, there were no community-wide Challenges during the Event. The main Events were the following:
Auric Cells Raffle
Cosplay Artwork Contest
Video Contest
The Escape Tournament
Huntress Mask Sweepstake
Auric Cells Raffle
[
]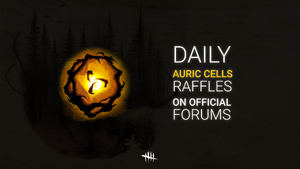 The daily Auric Cells Raffle would randomly choose a User from the then still new Dead by Daylight Forum as the winner.
The prize were 2250 Auric Cells.
The Raffle lasted from 14 June to 9 July 2018.
Escape Tournament
[
]
The Tournament took place on a different day for each platform:
22 June: PC
23 June: PlayStation
24 June: Xbox
It saw prizes of up to 15,000 Dollars.
Huntress Mask Sweepstake
[
]
The Sweepstake would randomly choose 5 winners, that would receive a hand-crafted Huntress mask alongside their purchase of one of the two 2 Year Anniversary merchandise.
The winners were announced on the 18th and 25th of June (2 winners each) and on the 2nd of July (1 winner).
Blood Hunt
[
]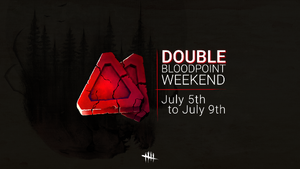 The Blood Hunt lasted for four days from 5 July to 9 July 2018.